26/07/2017: UP CULTURAL SUMMER CAMP STUDENTS VISIT SAN FRANCISCO PCG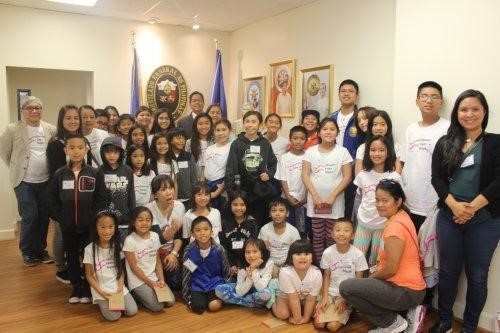 "Magandang hapon," chorused 30 voices who have been undergoing the University of the Philippines Alumni Association's Cultural Summer Camp, eager to show off the Filipino phrases they have learned from their teachers.
As part of the Consulate's movement to Spark*Connect*Empower* the Filipino-American Community, it organized an event for the University of the Philippines Alumni Association's Filipino Cultural Summer Camp students at the Philippine Center on Tuesday, 25 July 2017, to educate them about the Philippine Consulate's and partner agencies' functions as a government agency based abroad.
The campers, with ages ranging from as young as 6 to 14 years of age, and are third-generation Filipino-Americans and have been learning Philippine history, music, arts, dance, cuisine, literature, and basic Filipino.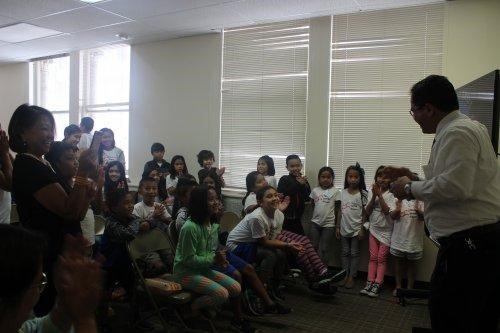 Deputy Consul General Jaime Ramon T. Ascalon welcomed the campers to the Consulate, informing them that his son was in the first batch of of the Cultural Summer Camp. He proceeded to entertain the children with a yoyo exhibition, saying that the yoyo was popularized in 1929 by Filipino immigrant to the United States Pedro Flores.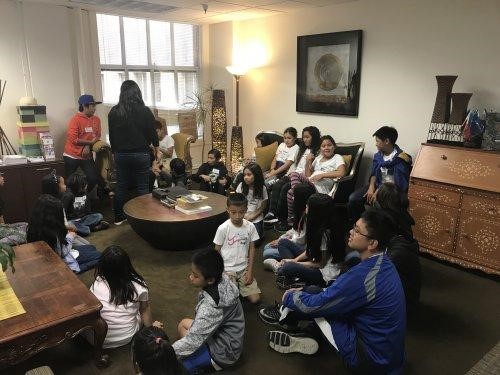 Consul Carlyn A. Monastrial gave a presentation on the functions of the Philippine Consulate General, explaining that it is guided by the three pillars of foreign policy, namely political security, economic security, and assistance to nationals. She added that the Consulate aims to reach out to the Filipino-American Community by providing platforms where the latter may be immersed in Philippine culture and heritage. She led them on a tour of the Center, passing through the 2nd floor which houses the information section of the Consulate and the attached agencies; the Philippine Folklife Museum on the 5th floor, and the consular section on the 6th floor.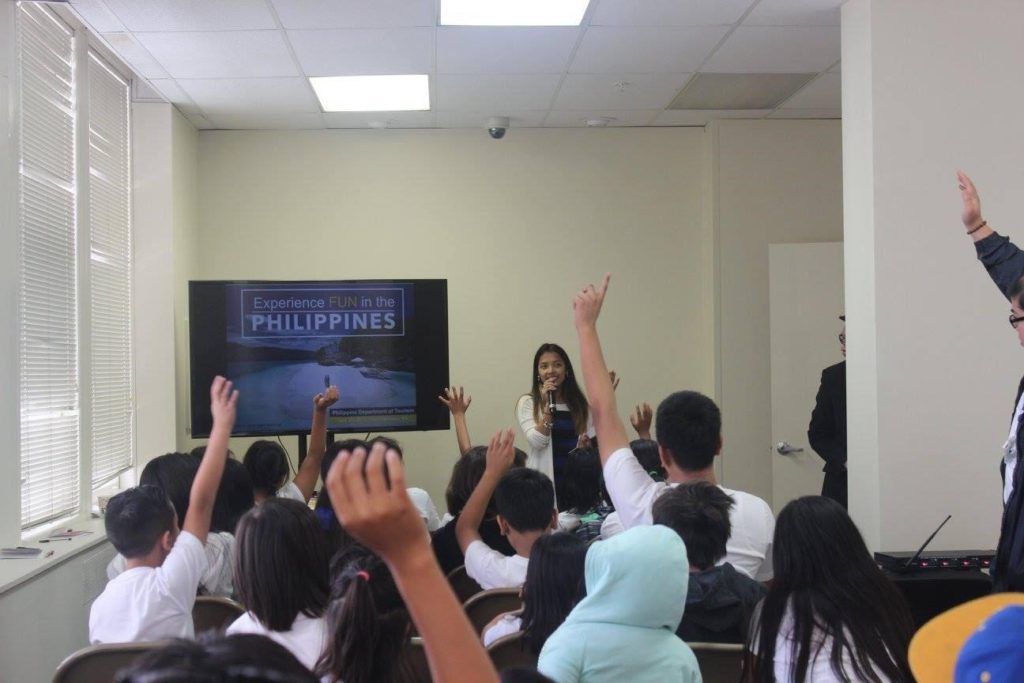 Tourism Office's Alessa Lopez made a presentation on the functions of the Tourism Office, leading them through an interactive presentation that allowed the kids to win prizes for answering trivia about the Philippines.
A lunch of Jollibee chicken and spaghetti were provided to the campers and teachers, to familiarize the third-generation Filipino-Americans with the Filipino palate. Ms Ana Segovia, the head instructor of the Summer Camp, informed that Consulate that it was the grandparents of the children who enrolled them in the Camp in their desire to ensure that kids are familiar with their roots, culture and heritage. This is the first time that the Camp has targeted Filipino-American youth in the South Bay, providing the much-needed connection to their Filipino heritage.
In appreciation for the Consulate's hospitality, the kids sang "Pen Pen de Sarapen", a Filipino folk song that they learned in their classes. They also wrote notes of support for Filipino soldiers in the frontlines, after they were informed of the insurgency going on in Marawi City. The children were given Philippine flaglets and magnets as a souvenir from the Consulate. END