Preparing for a wedding can be too arduous and time-consuming which makes newlyweds crave for the events to follow the wedding itself. Still overwhelmed with so many options? Listed below are three destinations you can spend that sweet honeymoon like no other.
Cebu
Cebu, the Queen City of the South is one of the most popular tourist destinations in the Philippines. In fact, back in 2010, Cebu was chosen as the best honeymoon destination at the World Travel Fair Awards which makes Cebu's strong foundation as a honeymoon destination recognized worldwide.
Taking a boat tour around dusk would give couples that unparalleled moment of watching the sun fall while holding hands. The night breeze and atmosphere might even join in the fun which would create nothing but memories for the two of you.
If you and your partner are inclined more towards attaining adrenaline, then fret not as Cebu is also known for water activities. You can either visit Moalboal to get a glimpse of the rich marine life underwater which cannot be seen in other places besides Cebu or Kawasan Falls, listed in Travel + Leisure's beautiful waterfalls around the world where you can raft through the three levels for a cascading massage. You can certainly never run out of things to do together in Cebu.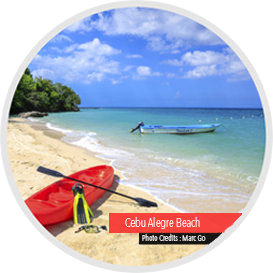 ---
Bohol
Not too far from Cebu, another famed tourist spot known as Bohol sits by. Newlyweds can witness majestic landscapes such as the awe-inspiring Chocolate hills or drop by the Philippine Tarsier Sanctuary, home to one of the smallest known primates, where a couple of Tarsiers are carefully taken care of without destroying their niche. At the sanctuary, the lovely wide-eyed tarsiers are trained to roost in during the day but are active and hunting at night which makes them free to roam around the area which is several hectares large.
One cannot leave Bohol without the fireflies encounter experience. Fireflies can be found in Loboc River in which you would have to rent a boat to visit. Five minutes in and you'll be guaranteed with small blinking lights swarming in and around the mangroves. The surreal atmosphere and gentle breeze while traveling along Loboc River will leave you and your partner reminiscing the day you met.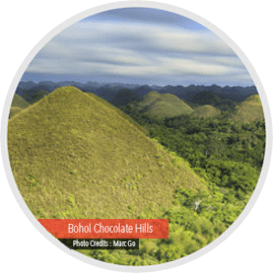 ---
Palawan
Certainly not what you have expected, Palawan makes its mark as the last one on our list. Sometimes referred to as Asia's Garden of Eden, Palawan will be able to give you and your spouse-to-be the once-in-a-lifetime honeymoon both of you have always been dreaming of. Unlike the crowd favorite that is Boracay, Palawan provides the much-needed privacy to create lasting moments with only the two of you.
Known as the Philippines' last frontier, the well- preserved Palawan offers so many couple activities you are encouraged to do. Kayaking your way to the amazing turquoise-green Big and Small Lagoons of Palawan where you could seclude yourselves and be astonished by the beauty of untouched nature. Explore the overwhelming Honda Bay and tunnel through the ravishing underground river of Palawan and leave nothing but priceless moments that you'll cherish for your life as one.
Want to make your honeymoon struggle-free? Leave it to our travel experts and they'll make your dreamy honeymoon come true.