An aerial shot of the Silla Island, San Vicente Pink Beach in Northern Samar taken by Jet Santillan (@jetsantillan)
Have you heard of pink beaches in the Philippines?
Though the Philippines is famous for its white-sand beaches, there is no denying that the country also has beaches that aren't known yet. Travelers worldwide may know about Palawan, Siargao, Cebu, and Boracay, but there is more that the Philippines has to offer. Like Barbados, Bahamas, Greece, and Indonesia, there are several pristine, off-the-beaten-path pink beaches around the country that you can find and include in your bucket list.
What makes pink beach "pink"
People only know about white and black sand beaches, so it's no stranger that pink sands are still surprising to some because of their color. But, what makes pink sand "pink"?
The pink hue actually comes from a microscopic organism called "foraminifera," algae in pink. These organisms are present as they are in the sand mix with corals, shells, and calcium carbonate. Sounding too scientific? Well, science does magical things we've seen, just like these four pink beaches we have in the country.
Great Santa Cruz Island in Zamboanga City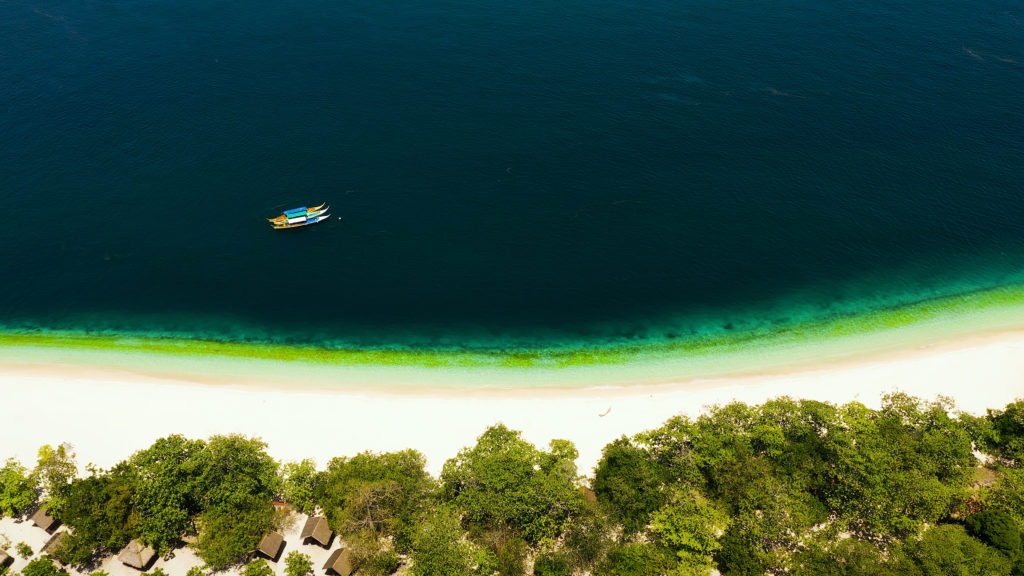 If you are looking for a unique island to check off that bucket list, then you should come and visit Great Santa Cruz Island in Zamboanga City, which is in the Southern part of the Philippines! The island itself is famous due to its fine pink sand that mimics the sea's pink corals' color. It is no wonder that this sun-drenched island was named one of the world's best beaches by National Geographic. What makes the island unique and famous is the lovely pink hue sand that glows under the sunlight and calm waters with some mangrove trees as background.
As an ecotourism site, Santa Cruz Islands or Las Islas de Santa Cruz only allow low-impact structures, facilities, and activities to ensure that the islands' natural environment remains pristine and habitable for various animal species. Aside from enjoying the scenic beach and strolling around the island, you can also do other activities such as snorkeling, diving, bird watching, lagoon tour, and cultural immersion in a small peace-loving Sama-Bangingi community. If you are looking to experience local cuisine, then locals can prepare good ol' seafood dishes just for you.
Getting There: The island is just a 15-minute boat ride from Zamboanga City's bustling commercial district, about a 90-minute plane ride from Manila. Since the islands are protected seascape and landscape areas, the best way to visit the island is to get in touch with the Zamboanga Tourism Office or the Protected Area Management Office through its Facebook account (Las Islas de Sta. Cruz – Pink Sand Beach) or email at zcpamolgu@mail.com. You may also contact your preferred travel advisor or travel agent to facilitate your travel arrangements. Booking is then encouraged 30-days before your actual visit to the island. You may enjoy this less crowded nature preserve from 7:00 a.m. to 2:00 p.m. since the overnight stay is not allowed. The island is a lot quieter, with only 500 visitors allowed per day, making it a perfect island getaway escape.
2. Sila Island in San Vincente, Northern Samar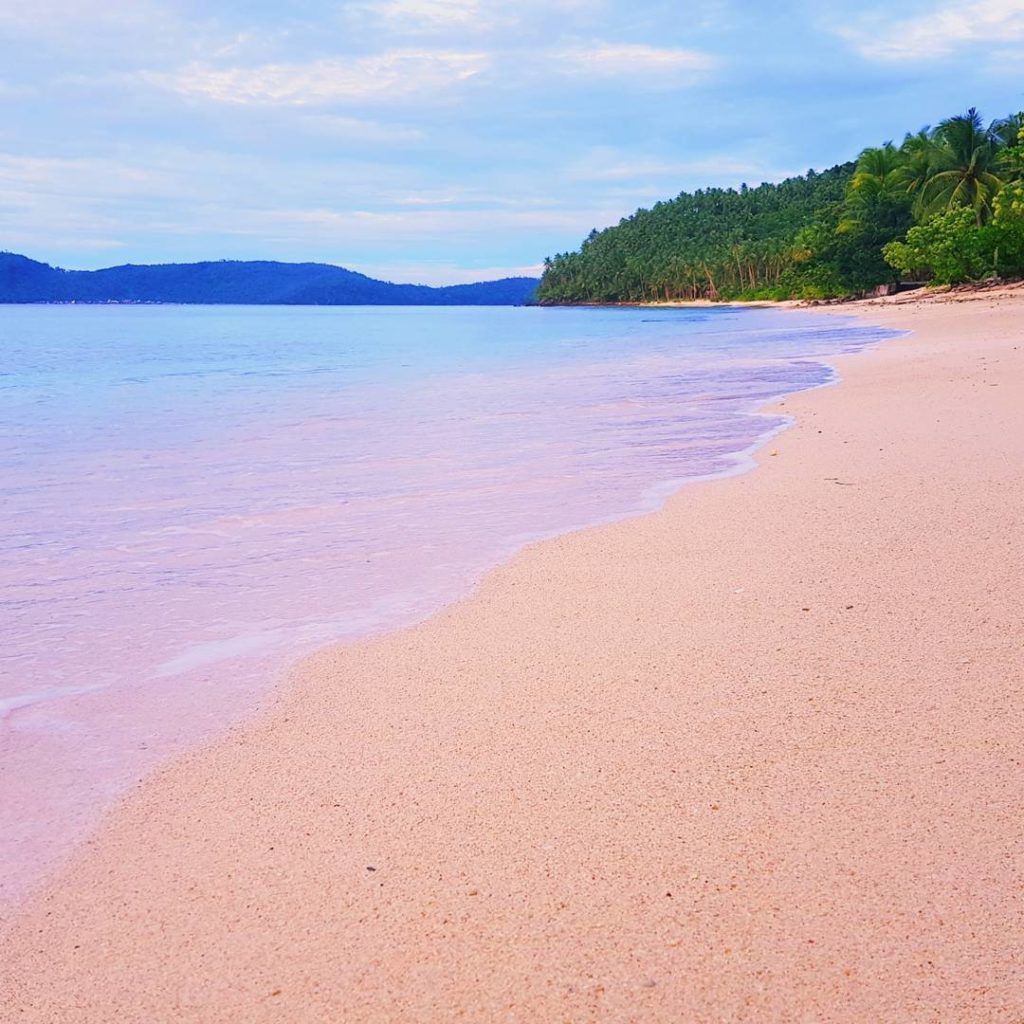 Are you dreaming of going to a tropical island retreat while avoiding throngs of sun-seekers? Why not explore one of the most famous off-the-beaten-path pink beaches in the east-central Philippines Sila Island in Northern Samar? Sila Island charms tourists because of its pink sand hue and natural beauty. The pink sand isn't as ultra pink as you'd expect, but the pinkness can be noticeable up close, which is still impressive. Plus, the island is the definition of clean and beautiful, where you can submerge yourself under the sea to discover what this beautiful island has to offer.
On the island is the Pink Sand Resort, where you and your friends can rent cottages for a day so you can enjoy the clear blue horizon besides the pink sand. You may bring your snorkeling gear as Sila Island is considered one of the Philippines' best snorkeling spots. Don't forget to prepare your own food, drinks, sunblock, garbage bag, and enjoy one of the most impressive pink beaches you could find in the Philippines.
Getting There: Sila Island is about a 40-minute flight from Manila to Catarman town in Northern Samar or Tacloban City in Leyte. Chartered jets are also available from Cebu, Davao, and Manila. From Catarman (almost 2-hour drive) or Tacloban City (more than 4-hour drive), hop on a chartered van to Calbayog and San Isidro towns, a jump-off point to San Vicente. A passenger boat or ferry will take you to Sila Island that departs daily at 7:00 in the morning, except Sunday, and returns to San Isidro town at 2:00 p.m. You may also have the option to charter your own boat.
3. Subic Beach in Sorsogon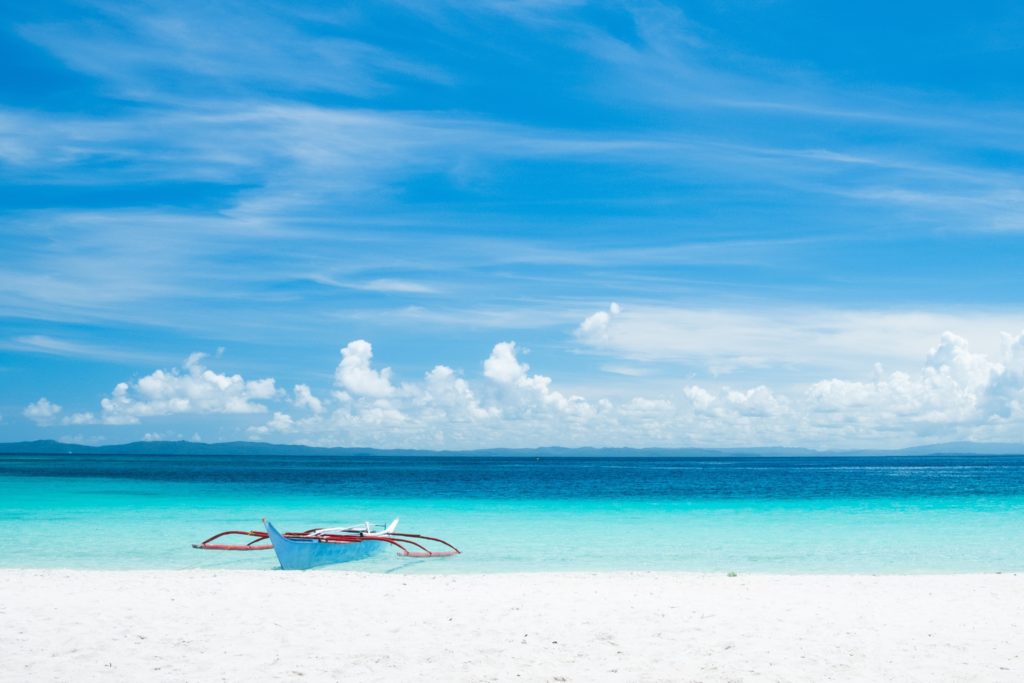 Who would've thought you'd get two pink beaches in one whole beach? Only in Sorsogon! This particular Subic Beach in Matnog, Sorsogon, is divided into two: the locals call it Subic Liit (Subic Small Beach) and Subic Laki (Subic Big Beach). The sand is fine, and it's pink sand also comes with crushed red corals mixed with creamy white sand, a unique island trait.
Instead of landing on the beach right away, you can explore the sea caves and their rock formation near the southeastern end of Calintaan Island. Enjoy the crystal blue water as you swim, but never forget to grab that life vest of yours.
You may have the option to avail of a private day tour that kicks off from Legazpi City, including boat rides, fish feeding at Juag Lagoon Fish Sanctuary, and swimming. The tour package includes hotel transfers, private boat rental with life jackets, complimentary refreshments, cottage rental, entrance fees, and tour guide services.
You can see several native-style huts and cottages; some even have air conditioning in Subic Laki and book an overnight stay as the beach offers affordable accommodation rates.
4. Tikling Island in Sorsogon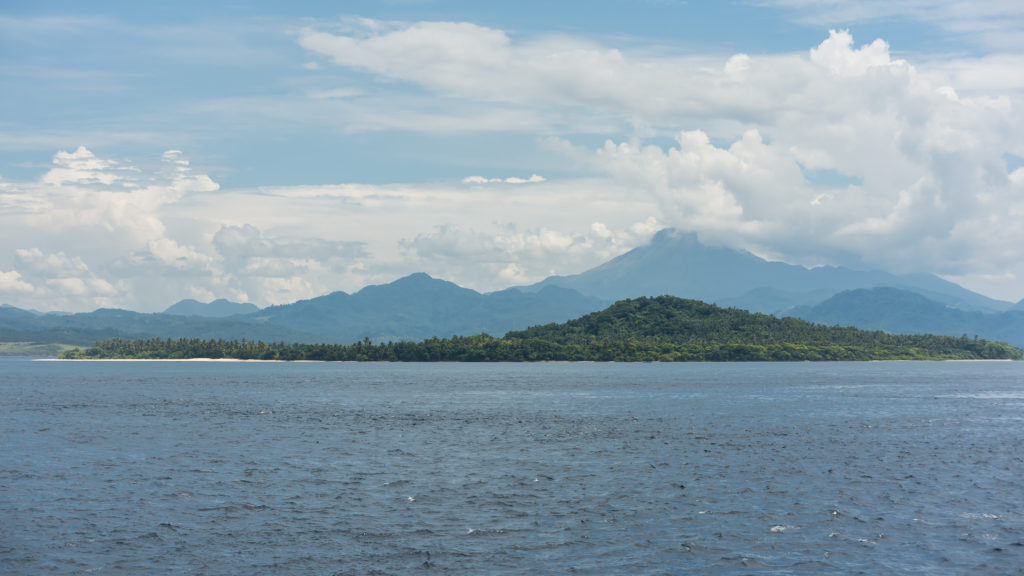 While exploring Sorsogon for the pink beach, Tikling Island, located along the scenic waters of Matnog Bay, could be your last stop. As the boat sails towards the island from Calintaan Island, you'll get a glimpse of the aquamarine waves to the shores of the fine sands mixed with scattering pink corals in the entire coast, making the sand pink.
With its charming rose-tinted shores, Tikling Island will impress you with its beautiful beach. Another beach that is just miles away from Subic Beach, this island isn't known to most tourists, considering it as Sorsogon's hidden gem. Explore this island and get the feel of its pink sand.
Getting There: Fly from Manila to Legazpi City in Bicol. You may hop onto a chartered van from Legazpi City to Matnog town, then take a private boat to Juag Lagoon Fish Sanctuary for fish feeding, island and pink beaches hopping (Calintaan and Tikling Islands) before boarding your boat bound for Matnog town proper and driving back to your hotel in Legazpi. Or, you have the option to stay in Subic Laki.