MANILA, Philippines — Multi-awarded local chief executive and Mayor of Liloan, Cebu Atty. Christina Garcia-Frasco formally assumed her new role as Secretary of the Department of Tourism (DOT) earlier today (June 30), during the Oathtaking of Cabinet Secretaries officiated by President Ferdinand Marcos Jr. that took place at the Malacañan Palace.
Frasco, who was joined by her family members mother Cebu Governor Gwendolyn Garcia, husband Cebu 5th District Representative Duke Frasco, and sister Carissa Garcia, was sworn into office along with other cabinet members of the new administration.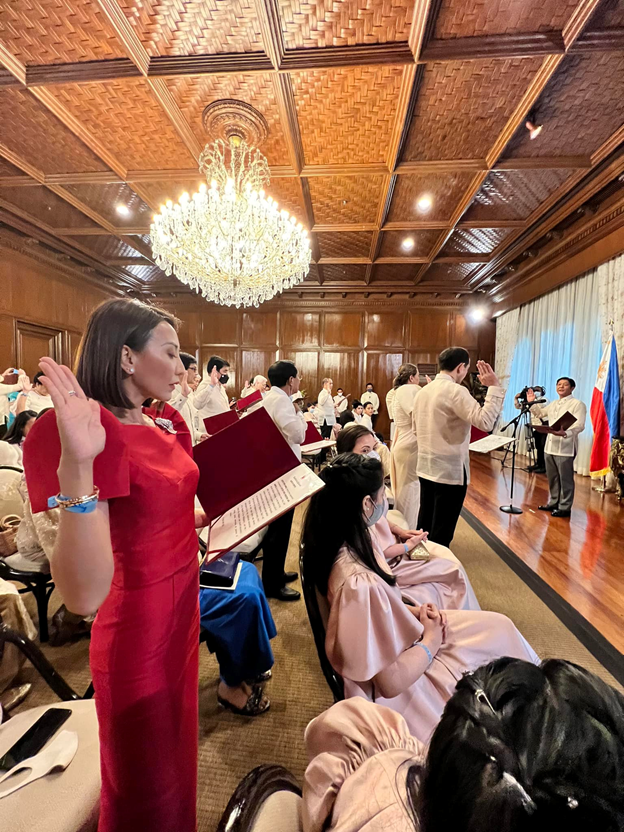 In his inaugural speech as the 17th President of the Republic of the Philippines, Marcos Jr. expressed his optimism for the country's tourism industry, noting its bright prospects with Frasco at the helm of the DOT.
"The recovery of Philippine tourism, with its emphasis on accessing nature's beauty, I am sure, will exceed expectations," said President Marcos.
"Following these giant steps, we will continue to build. I will complete on schedule the projects that have been started. I am not interested in taking credit; I want to build on success that's already happening. We will be presenting the public with a comprehensive infrastructure plan. Six years could be just about enough time. No part of our country will be neglected. Progress will be made wherever there are Filipinos, so no investment is wasted," added the President.
Secretary Frasco echoed the President's vision, noting two essential building blocks in ensuring sustainable tourism: effective local government planning and implementation, and shared tourism governance by the public and private sector.
"Effective planning and implementation on the Local Government side necessitates focus on zoning and land use regulations that enhances rather than degrades the long term value of tourist attractions, proactive and aggressive infrastructure development that provides quality access to roads, bridges, water systems, providing access to various methods of transportation by land, sea, and air, as well as heritage and environmental protection that ensures sustainable tourism development," she said, in relation to her experience as a local chief executive of Liloan town.
"The goal is to improve the overall tourism experience by both domestic and foreign tourists so that they not only enjoy the idea of the brand that is the Philippines but fully immerse in and keep buying into the product that is our beautiful country and the work of its people," she noted.
Secretary Frasco served as Mayor of the Municipality of Liloan from 2016 to 2022, and graduated from Ateneo Law School. Prior to entering public service, she practiced international arbitration and commercial litigation at the Romulo Law Firm and taught as a Professor at the University of San Carlos (USC) College of Law.
"It is my hope that by building bridges of collaboration, we can generate boundless opportunities for livelihood, employment, and business that puts the success of every Filipino tourism stakeholder front and center of our agenda," enthused the tourism chief.