For coffee lovers, the Philippines could be a place for you to explore and experience its local coffee shops while tasting and smelling the addictive aroma of its signature local coffee from Lipa City in Batangas, where the first coffee beans were introduced by a Spanish Priest in 1800, to the metropolitan cities of Manila, Davao, and Cagayan de Oro, and the mountain ranges of Sagada, Benguet, Bukidnon, South Cotabato, and Davao.
Coffee isn't just a trend. It's also a cultural symbol not only in pop culture but everywhere in the world. There are many reasons why coffee shops are the most visited in the world, especially coffee shops in the Philippines. For some, it also has become a cozy place to catch up with friends and chatter.
Coffee has been an essential commodity in the Philippines, not only for students and working people but also for the tourists who wanted to experience and taste Philippine coffee in an atmosphere like no other. The warm, cozy, mom and pop, or open-air ambiance of coffee shops become hangout spots for individuals, friends, students and professionals, local and foreign visitors from all walks of life, whether young or old.
Pep up your trip to the Philippines by discovering the unique flavors of Philippine coffee while tasting the best brews found in all three major islands.
Top 9 Coffee Shops in the Philippines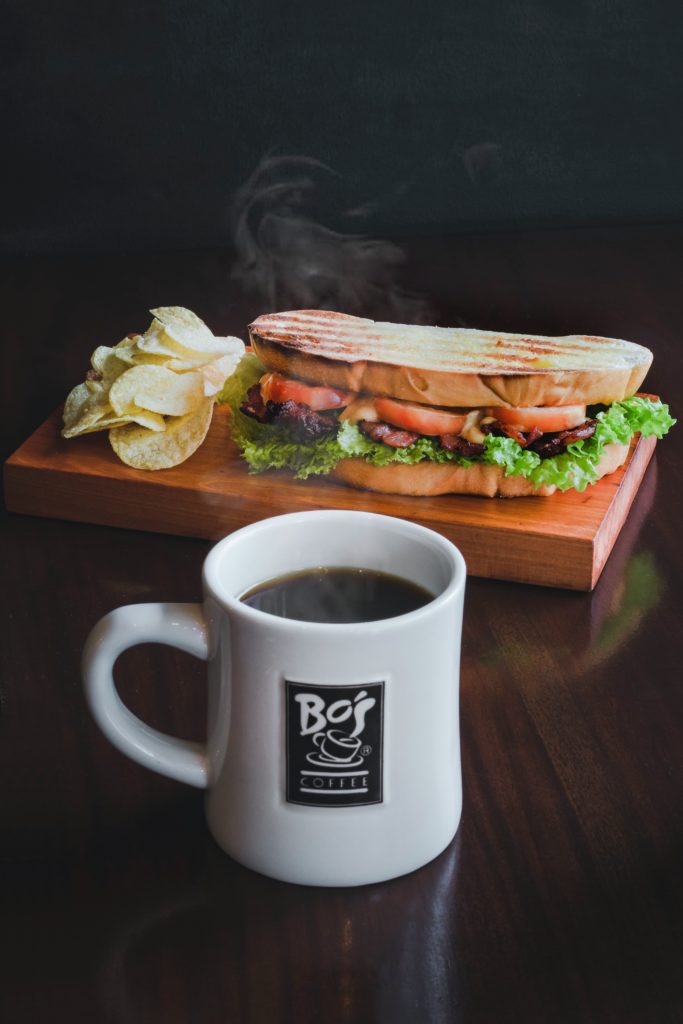 Bo's Coffee
Bo's Coffee's primary focus is offering an entirely homegrown coffee experience to the locals and tourists. They don't only sell the beans, but they also use them in the beverages they make in their coffee shops.
They provide a wide array of beans from Sagada, Benguet, Mt. Apo in Davao, and Mt. Matumtum in South Cotabato. The beans from Sagada give out a nutty taste with tobacco notes. The Benguet beans have a wine taste with an herbal kick. Mt. Apo beans give an earthy flavor, while beans from Mt. Matumtum has a berry taste with a kick of spice.
Location: You can find Bo's Coffee in major cities in the Philippines such as Makati City, Quezon City, Cebu City, Dumaguete City, Cagayan de Oro and Davao City.
Kalsada Coffee
To connect to her heritage and her home country, the Pacific Northwest-raised Carmel Laurino founded Kalsada. Photographs showing "kapeng barako" sold in the Seattle market in 1909 became her inspiration for opening her coffee business. Today, her coffee shops cater to coffee lovers in four American cities and Manila.
They source beans from Belis, Benguet that give out a vanilla taste and floral aroma. Expect to taste notes of cacao, nutmeg, cardamom, and all-spice in your drink. Another win for the company is their support for the farmers as they pay over 50 pesos per pound of beans.
Location: Kalsada has branches in Seattle, New York, Chicago, San Francisco, and Manila.
Figaro
Figaro serves coffee made from freshly-roasted beans sourced from all over the Philippines. The coffee shop prides on their fresh beans roasted every week before they deliver them to all the stores. Through this, customers can enjoy a fresh cup of coffee while enjoying it's European-style ambiance.
The coffee shop has come a long way since it's opening in 1993, with over 90 branches worldwide. Today, the brand has become a prime example of what a Filipino world-class coffee brand can become.
As for the menu, they created a lineup of their old and new favorites that fits anyone's pallette. It is a medley of Western cuisine (Chicken Caesar Salad and BBQ Pulled Pork Sandwich) and a touch of Filipino flavors such as their classic Magandang Umaga Platter, our version of a breakfast platter.
Coffee shop gems in Luzon
El Union in La Union
If you are looking for a hip, open-air cafe atmosphere by the beachside or in a surf town, La Union is the best place. El Union is Instagram-worthy, with #ShirtlessBaristas making good coffee from high-quality local beans and specialty drinks. The coffee shop from one of the Philippines' surfing capitals serves homegrown coffee and drinks, including a specialty cup of Nitro Cold Brew on draft and a cup of Dirty Horchata, which is a shot of espresso mixed with a rice-milk. This surf town cafe is frequently visited by surfers, surf enthusiasts, and Manila folks who spend their weekends in Elyu or La Union.
They serve high-quality local beans from farmers in the Cordilleras, Benguet, Mt. Apo, Cagayan De Oro, and Bukidnon and blend the roasted beans with Panama, Brazil, and Ethiopia El Union is a popular spot for celebrity tourists. In fact, they once served coffee to Martha Stewart when she visited the country.
Location: The Great Northwest Travel Shop & Viewing Deck, MacArthur Highway, San Juan, La Union
Cafe de Lipa in Lipa, Batangas
Why not start your day at "Cafe de Lipa, the most popular coffee shop located in Lipa City in Batangas, which is the birthplace of Philippine coffee. Cafe de Lipa serves Kapeng Barako (a Liberica species), from Tagalog words, a male stud bull or wild boar, due to its strong and bold flavor. Its historical significance dates back as early as 1800 when a Spanish Franciscan monk introduced coffee in the Philippines. Mostly for Filipinos, Kapeng Barako invokes memories of their parents sipping it early in the morning, a cultural staple for more than 200 years. In fact, the owners were able to trace their lineage to two family members who helped propagate the country's first coffee trees.
They source their beans in different parts of the coffee, including Robusta from Cavite, Ilocos, Basilan, and Arabica from Benguet, Bukidnon, and Cotabato. You can expect authentically and high-quality coffee served in the cafe.
Best Drink: Barakok Joe. It's their homage to the classic signature brew.
Location: You can find Cafe de Lipa in three different locations in Lipa City (The Outlets, STAR Tollway, Brgy. Tibig, and at Mataasnalupa, Lipa City). You can also visit its Taguig City Branch located at the ground floor of Market! Market!
Bana's Coffee (Sagada)
Once a set of a beloved Filipino romantic comedy movie "That Thing Called Tadhana" (That Thing Called Destiny), Sagada has become one of the country's top tourist spots not only by local travelers but also by foreign visitors. Sagada prides itself on its rich coffee beans. Hence, there is a coffee shop found within the rich highlands.
Bana's Coffee is famous for its Arabica house blend and Kape Alamid, coffee made from civet cats' droppings. You can enjoy a world-class coffee while looking at the gorgeous view of its balcony.
The cafe is also renowned internationally. It won the Medaille Gourmet in the "International Contest of Coffees Roasted in their Countries of Origin" in 2017, awarded in Paris, France.
Location: South Road, Poblacion, Sagada
The Visayas Concoction
Balsa Kafe and Agri-tourism Hub in Leyte
Leyte's must-visit destination is known for its scenic view, serene atmosphere, and great coffee. The Balsa Kafe and Agri-tourism Hub is known for its rich coffee that every tourist wants to start their day with. This cafe and hub work with the local farmers and farming communities around the area, where they source their fresh produce and local coffee.
Location: Brgy. Bogasong, Libagon, Southern Leyte
Madge Cafe in Iloilo
This cafe has become an Iloilo icon where tourists stop here to dig into their breakfast menu before exploring the town. Serving since 1951, they are using its original pre-war concoction and source their beans from the northern parts of Iloilo and Guimaras.
What's more impressive is that they traditionally prepare their coffee using a culador (flannel sieve), holding and boosting the flavor as layers of beans are added.
Location: Lapaz, Iloilo City
Coffee Culture Roastery (Bacolod)
The country's City of Smiles is every food lover's paradise as they come to the city for its iconic chicken inasal. But, what most people don't know is that the province's cafe culture is rising.
Found here is the town's first artisan coffee roaster, Coffee Culture Roastery, where they source their beans from Philippine local farmers.
Best Drink: Negros Blend. Baristas use a mix of Robusta and Arabica beans from Negros Island's Mt. Kanlaon, with hints of dark chocolate and roasted nuts.
Location: Alijis Road, Bacolod City, Negros Occidental (Besides 7-eleven)
Mindanao's brew
Bukidnon Brew Cafe
This family-owned cafe is one of Bukidnon's favorite coffee shops and hangout places for people of different ages. Located in the city of Malabalay, this coffee shop prides itself in brewing and serving the traditional Monk's Blend coffee, beans grown and produced by Benedictine Monks in the area.
Location: Bonifacio Dr., Malaybalay, Bukidnon
Travel now in the Philippines
For a country like the Philippines, a cup of coffee means a lot to local farmers. You support their farms while advocating ethical and sustainable farming and embracing the Philippine coffee culture of Kape Tayo!
Kape Tayo (Let's have coffee) is the Filipinos highest form of endearment, inviting you for a cup of coffee at home, in an office, or a coffee shop where you can have intimate or deep conversations.
If you want to taste our local coffee in all three islands, come and visit the Philippines. Book your travel now!