Coolangatta, Queensland/AUS (Thursday, August 25, 2016) – Late September will see a mass of the world's best surfers head to the Philippines Island of Siargao and its perfect right-hander of Cloud 9 for the 22nd annual Siargao Surfing Cup QS 1,500.
In its second year as a Qualifying Series (QS) 1,500 event the World Surf League will once again team up with the Asian Surfing Championship (ASC) to co-sanction the event. This will no doubt help to attract some of the regions top surfers hunting for qualifying points.
One of these surfers is last year's event winner and local legend John Mark-Tokong. Tokong, who has been surfing in a number of events throughout Asia this year has made Cloud 9 his focus and is keen to go back to back in 2016.
"I'm super stoked to compete again in this year's competition," Toking said. "I've trained hard at Cloud 9 but also in Indonesia in the past few months. I really hope the waves will be good and that I can win again."
Placing third at Cloud 9 as a 16 year old, Chris Zaffis can't wait to get back to the Philippines, a place where he competed in his first ever QS event.
"I have been to Cloud 9 a few times now," Zaffis said. "It's been one of my favourite spots in the world and I've been going back every few years. It is such a sick little slab with some cool locals, I can't wait to get back for sure."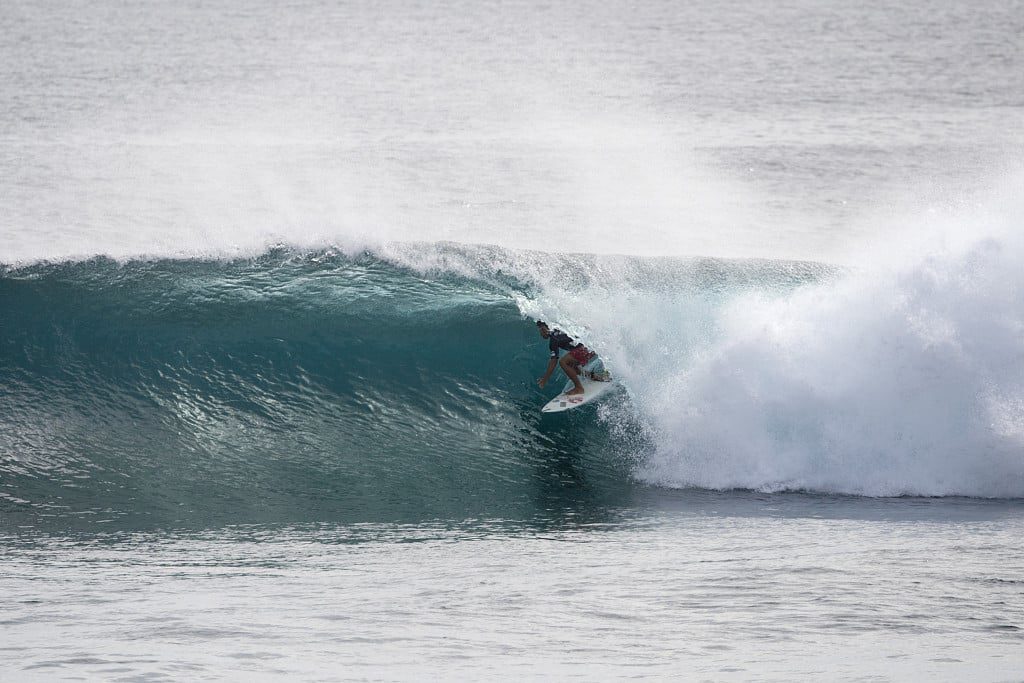 John-Mark Tokong, 5th place at the 20th Annual Siargao Cloud 9 Surfing Cup
Having locked in a win at the Mentawai Pro earlier this year at a similar set-up and having a solid result at Cloud 9 in 2014, Zaffis is coming into the event with a solid amount of confidence as he hopes Cloud 9 serves up some hollow pits in which he is so comfortable.
"I did the QS event there when I was 16, a couple years ago, and got 3rd. It was my first QS and I was just having a good time getting barrelled, Just like I was at the Mentawai Pro. I just really hope we score a good swell and have a sick time getting barrelled with the boys again."
The 2016 Siargao Surfing Cup at Cloud 9 will get underway with an official opening ceremony and press conference on the 23rd of September. Competition will commence the following day, running from September 24 – 29. For more information on the event check back at www.WorldSurfLeague.com or check out the WSL app.
About the World Surf League
The World Surf League (WSL), formerly the Association of Surfing Professionals (ASP), is dedicated to celebrating the world's best surfing on the world's best waves through a variety of best-in-class audience platforms. The League, headquartered in Santa Monica, is a truly global sport with regional offices in Australasia, Africa, North America, South America, Hawaii, Japan and Europe.
The WSL has been championing the world's best surfing since 1976, running global events across the Samsung Galaxy Men's and Women's Championship Tours, the Big Wave Tour, Qualifying Series, Junior and Longboard Championships, as well as the WSL Big Wave Awards. The League possesses a deep appreciation for the sport's rich heritage while promoting progression, innovation and performance at the highest levels.
Showcasing the world's best surfing on its digital platform at WorldSurfLeague.com as well as the free WSL app, the WSL has a passionate global fan base with millions tuning in to see world-class athletes like Mick Fanning, John John Florence, Stephanie Gilmore, Greg Long, Gabriel Medina, Carissa Moore, Makua Rothman, Kelly Slater, Adriano de Souza and more battle on the most unpredictable and dynamic field of play of any sport in the world.
For more information, please visit WorldSurfLeague.com