MEDIA RELEASE
07 May 2019
CALAPAN CITY– Thousands of swaying candles light up the city as the Province of Oriental Mindoro celebrated their much-anticipated festival–Pandang-Gitab or Festival of Lights on April 27, 2019.
"In the previous years, the Department of Tourism (DOT) supported financially festival undertakings through prizes for street dance competitions and other tourism related events and activities. This year, to entice more tourists to visit our destinations and tourism sites, we invest on promotion and marketing. Media familiarization and exposure tour is one of the strategies," DOT Region IV-B Director Danilo Intong said.
According to Oriental Mindoro Governor Alfonso V. Umali Jr., Pandang-Gitab represents the province's rich culture and history. "It (festival) is unique. Dito talaga nag-umpisa ang Pandanggo sa Ilaw, which Pandang-Gitab took inspiration from, really originated from Oriental Mindoro," Gov. Umali added.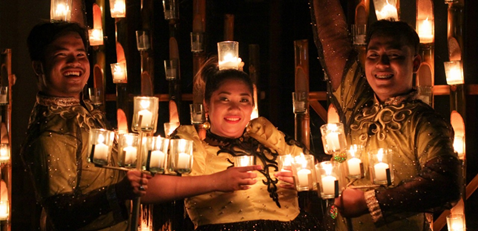 Pandang-Gitab, an annual festival, is a lively street dance, adapting the basic steps and music of the original Pandanggo sa Ilaw. It was coined from the words "pandango" or dance and "gitab" or flicker of flights.
Doctor Jaymark Atienza, a folk choreographer, also emphasized that Pandang-Gitab should not only be seen as a festival where people hold lighted lamps on the palm and head while dancing, but more importantly, as an opportunity to bring back the culture and old tradition of the Mindoreños.
This folk dance was inspired by women carrying oil lamps as they send off their husbands to fish out to the sea at early dawn.
Aside from promoting traditions of regions, the DOT also targets more tourist arrivals to destinations and sites especially potential and emerging destinations.
Oriental Mindoro offers pristine and amazing beaches away from the noise and chaos of the city that are perfect for a relaxing vacation. Other than Puerto Galera, which is known for its dive sites and white sand beaches, Bulalacao has a lot of promising islands to explore.
Tourists can go island hopping to get to secluded and stunning islands like Suguicay, Aslom and Target to see long sand bar beaches with crystal clear waters.
The Province of Oriental Mindoro takes pride in their heritage sites like Kuta Church, Simbahang Bato and Mangyan Heritage Center that are being protected and preserved for future generations to enjoy.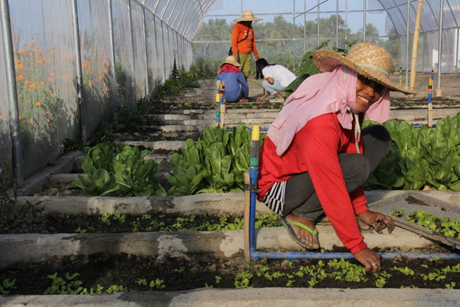 In relation to farm tourism development efforts, accreditation is actively encouraged. The first accredited site in the province is Gabunatero Organic Farm in Bongabong. This must-visit farm allows tourists to plant and harvest organic fruits and other products as well fishing.
In coordination with national agencies and local government units (LGUs), the DOT is developing rest areas along the stretch of the Strong Republic National Highway (SRNH) that connects the islands of Luzon, Visayas and Mindanao, which crosses through Oriental Mindoro.
Regional Director Intong underscored that this will open new economic opportunities and create numerous jobs for the people.
The SRNH not only provides easier and faster travel, but also enhances the accessibility of tourist destinations in the country.