Admit it, you love trying new food. Everyone from Food Network to Bloomberg claims 2017 is the year Filipino flavors will explode onto the food scene. Bon Appétit named the D.C.-based Filipino restaurant "Bad Saint" the second-best new restaurant of 2016, providing evidence for the claims that Filipino flavor is about to find fame. And now, Netflix's Street Food featured Tuslob Buwa to the world!
While eating his way through food-friendly cities around the world for television audiences (since 2002), Anthony Bourdain has shown some serious love for Filipino street food. He claims his favorite street food in the Philippines, sisig, is "possibly the best thing you could ever eat with a cold beer."
It's time for you to let your taste buds join the adventure and get to munching as you travel through the streets of the Philippines. The endless choices from street vendors will get your stomach rumbling. Some of the foods you'll find may test the limits of your palate, but if you're craving adventure, you can find it among the stalls of Filipino food markets.
However, if eating from a stall in the street seems too extreme, choose these items from a menu in a bar or restaurant. Many places offer wine or local craft beer pairings with these traditional street foods.
Savory Snack Foods in the Philippines
You can find a variety of grilled, barbecued, and roasted savory dishes on Filipino streets. Don't forget, as you snag your street food, it is proper to stop at the sauce station and add salt, vinegar, onions, chilies, and various sauces as the Filipinos do.
Lechón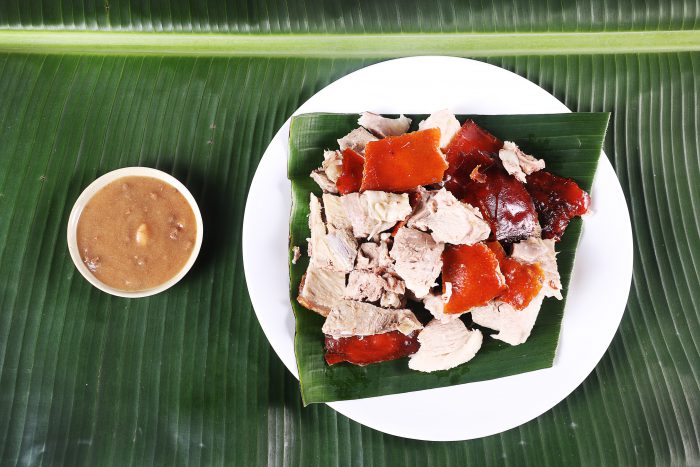 You won't want to miss trying the national dish of the Philippines, roasted suckling pig known as Lechón. It is prepared throughout the year for special occasions, celebrations, and holidays. After removing the insides of the pig, it is seasoned and skewered by a large stick. The skewer is then placed in a large rotisserie and the entire pig is cooked over a charcoal pit for several hours.
The Lechón is usually crispy on the outside due to the method of basting and the hours on top of the coals. During his visit, chef Anthony Bourdain claimed Cebu had the most delicious version of the dish, but Skyscanner claims they know the nine best places to grub down on some Lechón.
Tuslob Buwa
If you've seen Street Food's Cebu episode, then you'll be familiar with the first exotic street food straight from Cebu. Tuslob Buwa consists of a pig's brain, liver, and spices mixed and cooked in one pan. Usually, this is eaten by hand with puso or hanging rice wrapped in woven coconut leaves.
The Cebuano delicacy is known for its aromatic flavors and smell to which tourists enjoy.
Fish Ball
Next on the list is one Asian delicacy found in Hong Kong, Macao, Taiwan, and other parts of Southeast Asia. But here in the Philippines, the most common type of fish balls is usually made from cuttlefish or pollock served with a sweet and spicy sauce. Another alternative for sauces may include a spicy and tangy white sauce that contains vinegar, diced onions, and garlic. And you can actually find them in pushing wooden deep-frying carts sold by vendors everywhere.
Balut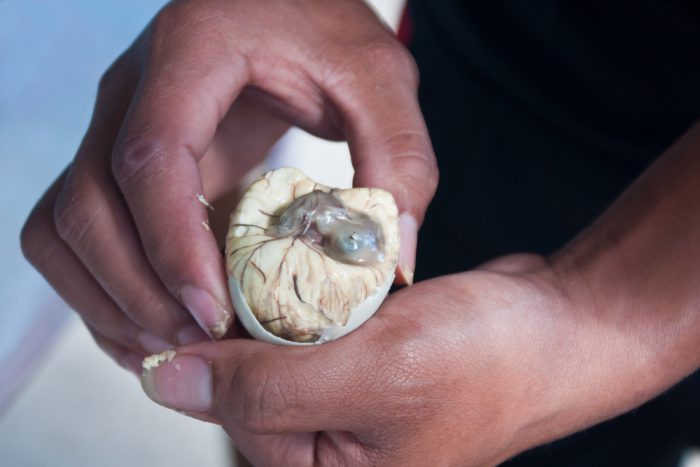 Walking around a local market is one of the best ways to try the adventurous and famous street food snack, Balut. The partially developed duck egg embryo is often referred to as the king of Filipino street foods.
You eat it by first cracking open the top of the boiled egg and drinking out the broth or the soup. Then you peel the rest of the egg and season it with vinegar and salt before finish eating the snack. See how Americans react to the dish in this Buzzfeed video.
Isaw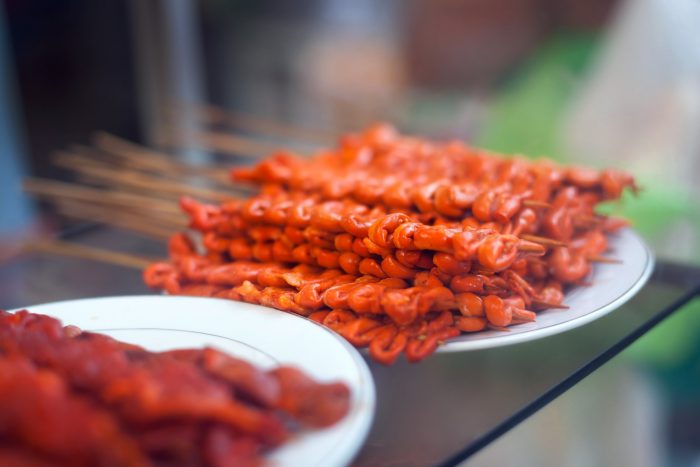 A famous Filipino street food, isaw is the barbecued intestines of a pig or a chicken coiled on a skewer and grilled until smoky and crispy. Of course, the intestines are cleaned, then turned inside-out and cleaned again, with this process occurring multiple times before cooking.
During the afternoons, you can find vendors selling isaw on street corners across the islands. While visiting an isaw vendor, pork barbecue, atay (liver), and adidas (grilled or barbecued chicken feet) are usually available for your culinary pleasure.
Isaw is popular across the country, but comic book artist Maniz Abrera's "KikoMachine" comic strip made the food a staple at the University of the Philippines Diliman. The comic strip featured in the Philippine Daily Inquirer began with many scenes featured on the campus around the isaw vendor's stall. Abrera's comic is now a daily find in the newspaper and even though it deals with weightier topics most days, people still visit the university as homage to the origins of the comic strip.
Kwek Kwek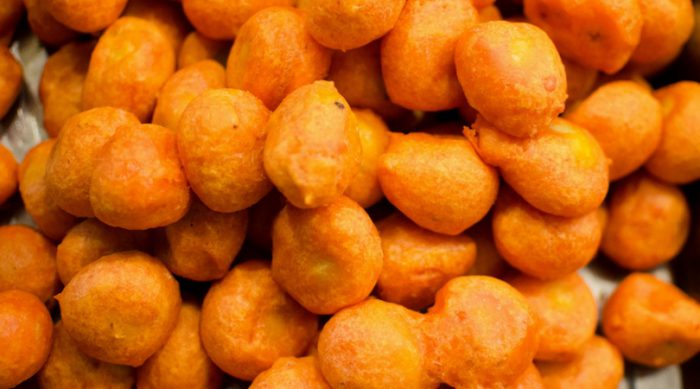 Kwek Kwek is a tempura-like battered and deep fried street food. The batter is dyed orange and when you bite through the batter you find a soft-boiled quail's egg. It's much like a corn dog, only with egg inside instead of a hot dog. Sounds like a perfect street snack, doesn't it?
Get psyched for your Filipino food tour with a virtual tour alongside Mark Wiens of Migrationologythrough the Quaipo Market in Manila.
Sweet Treats You Need
Savory isn't the only flavor you'll find when trekking through the streets in the Philippines. Sweets are often flavored with the abundant fruits of the islands including ube (also known as purple yam), coconuts, and mango.
Taho
In a typical Filipino morning, many people wake up when a see hawker yells "taho." Then everybody rushes to get a taste of this sweet pudding-like dessert. Taho is made with tofu called soft silken tofu topped with brown syrup called arnibal and sago pearls. Most people eat it during breakfast or eat it in the late afternoon after work and school.
Sorbetes
Also known as "dirty ice cream," sorbets is another traditional dessert sold by street vendors everywhere. The milk used in coconut milk mixed with cassava flour stands out from other ice creams for this version. Flavors vary a lot, but it usually natural fruits and plants like mango, ube, jackfruit, and melon. Different popular flavors include chocolate, cheese and cookies, and cream.
Banana Cue
Considered a portion of all-time best-selling street food, the banana cue is every Filipino's favorite sweet treat. These deep-fried saba bananas are coated with caramelized sugar then skewered on sticks. Plus, Cooking it in margarine – or oil – resulted in a nice texture that anyone would love to eat. Usually, it can be consumed either after work or in a mid-afternoon Filipino food snack.
And, of course, you can easily spot a vendor selling this sweet treat on every street corner in the country.
Turon
Suppose the banana cue is saba directly deep-fried in oil. In that case, turon is another sweet banana dessert with jackfruit strips wrapped with spring roll wrappers. The most impressive thing about this dessert is that everybody's go-to merienda and after-school or work snack. Pair it with a cold soda then you are good to go!
Halo–Halo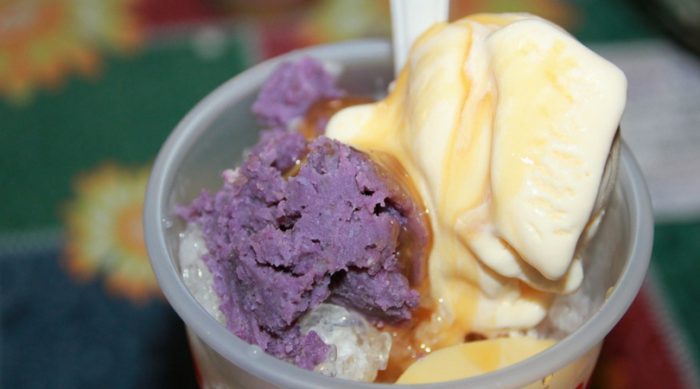 Halo-Halo is one of the most popular and inexpensive summertime sweets you'll find when visiting the Philippines. Halo-Halo is made from shaved ice and evaporated milk. Vendors mix in sweet fruits or other sweet ingredients like corn, coconut, or sweet beans.
The dessert is served in a tall glass or bowl and has been featured in multiple travel and food television shows, including Bizarre Foods and Top Chef.
Ube Halaya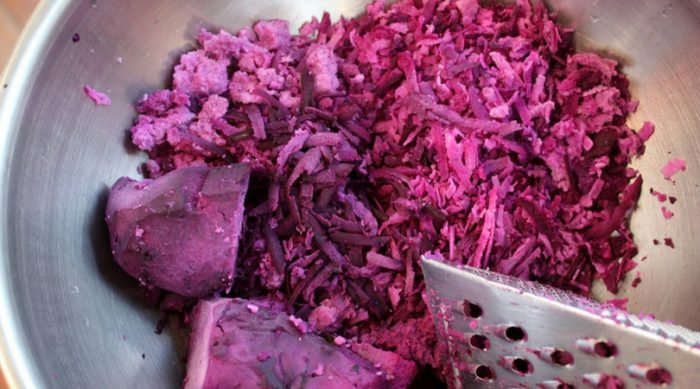 While there are lots of different desserts which feature ube, from ice cream to cakes, ube halaya is most common on the street. Ube halaya is ube boiled, grated, and combined with other ingredients like sugar or milk until it thickens. You can then add it to halo-halo or ice cream, or you can eat it like pudding.
This recipe from the blog 196 flavors will awaken your sweet tooth in no time. "Ube halaya was a blissful and unexpected discovery for me, as we featured Filipino last June," said Mike Benayoun of 196 flavors. "I especially loved making latik, this crunchy residual of coconut milk that adds a beautiful sweet and crunchy note to this dessert."
Buko Juice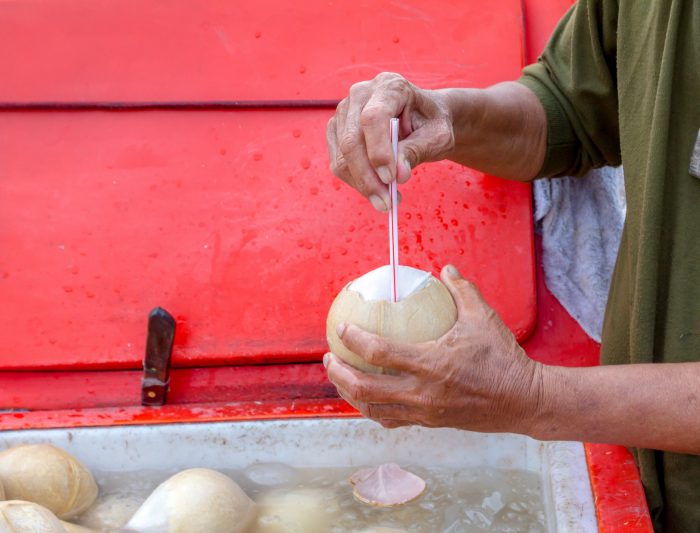 The Philippines is made up of more than 7,000 islands, which means that coconuts, also known as buko, are never far away. In the street markets, you can find buko juice, or coconut water, almost everywhere you go.
Buko juice not only tastes good and helps with hydration, but it is often heralded for its health benefits. The juice has been known to help prevent kidney stones, reduce sugar levels, regulate blood pressure, and improve digestion.
Plan Your Culinary Adventure in the Philippines
Explosive flavors and generous portions await your arrival in the Philippines. Whether these flavors seem exciting or extreme, you are bound to find something in the Filipino culinary world which will light your flame.
Let us help plan your next trip! We have great ideas and can help you find experts so you're never overwhelmed with options. We can't wait to shout magandang araw–or beautiful day –to you across a market full of Filipino street food.