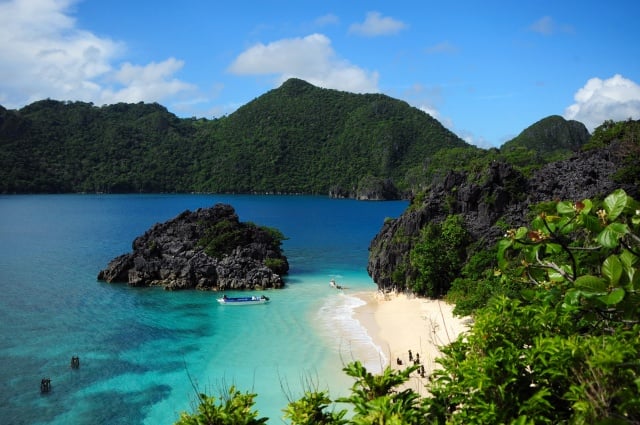 The 7,641 islands that make up Philippines is a constellation of luscious greens and blues. This country does not fall short when it comes to land and seascapes that would make you love our planet all over again. This is exactly why this archipelago is always winning awards and getting recognition for being one of the top tropical vacation and spring break destinations in the world.
Besides the obvious choices of Boracay and Palawan, there is another island worthy of appreciation. Perfectly hidden in the lower eastern part of Bicol Region's Camarines Sur lies Caramoan Peninsula. This island is a tropical dream destination with its lush green hills and mountains, picture-perfect limestone formations, and white sand beaches. It's not just that- Caramoan Peninsula is also home to an islet lake and a subterranean river so if a nature trip is what you are going for on your vacation, then this is the place to be.
The quaint charm of this island gained an even wider global recognition after the Survivor show from various countries, namely- United States, France, Israel, Belgium, Sweden, Norway, Bulgarian, Serbia, and India- held parts of their television program here. The media exposure it attained attracted foreign tourists and increased its popularity as a top tropical vacation destination for beach lovers and watersports enthusiasts. In fact, the island was recently chosen by CNN Go (a television and online travel magazine of the world's largest international cable news network CNN) as one of the top 10 best islands and beaches in the country of the Philippines.
If it's your first time going to this magnificent island, there are many things you could do to make it a memorable trip. Experience amazing water adventures such as snorkeling, scuba diving, and kayaking or if you consider yourself a bit of a daredevil, then go on and try limestone cliff and/or rock climbing or caving. Of course, you could just bask in the beauty of Caramoan Peninsula and frolic under the sun with the crashing of the waves lulling you into mindless, happy oblivion.
The island's main attraction is the Gota beach, located about 5 kilometers from the Caramoan town's proper. It's not difficult to find this place especially with its famous landmark, the Explorer's Rock. Once you've found this large rock, then you'll know you have reached Gota Beach. No worries, the rock is not just what makes Gota beach unforgettable- get ready to enjoy its powdery white sand that could give Boracay a run for their money.
Oh, and since you're already in Bicol, why not take the time to feast your eyes on its world-renowned perfectly cone-shaped Mayon volcano.
What are you waiting for? Book a flight now and have the holiday travel of your lifetime in one of the best tropical destinations in the world.