Featured Content by Guide to the Philippines
Lounge in the best beaches of the Philippines! If you're looking for the most pristine beaches with unspoiled stretches of white sand, crystal clear waters, and postcard-worthy views, the Philippines has a ton of them! With so many beaches to choose from, where do you start? Find out the top beaches in the Philippines below.
It's not surprising that choosing the best beach tours in the Philippines is one of the hardest things to do when planning your vacation to this Southeast Asian country.
After all, the Philippines is an archipelago with over 7000 islands and has the 5th largest coastline in the world. This means there are literally hundreds of tropical beaches to choose from!
We've come up with this list to help you find the best beaches in the Philippines. In general, the best time to plan your trip to these beaches is during the dry and summer months in the Philippines, from late November to May.
From popular beaches to secluded unspoiled ones, here are 25 of the best beaches in the Philippines that you should add to your travel itinerary.
25. Bakhaw Beach, Camotes Islands, Cebu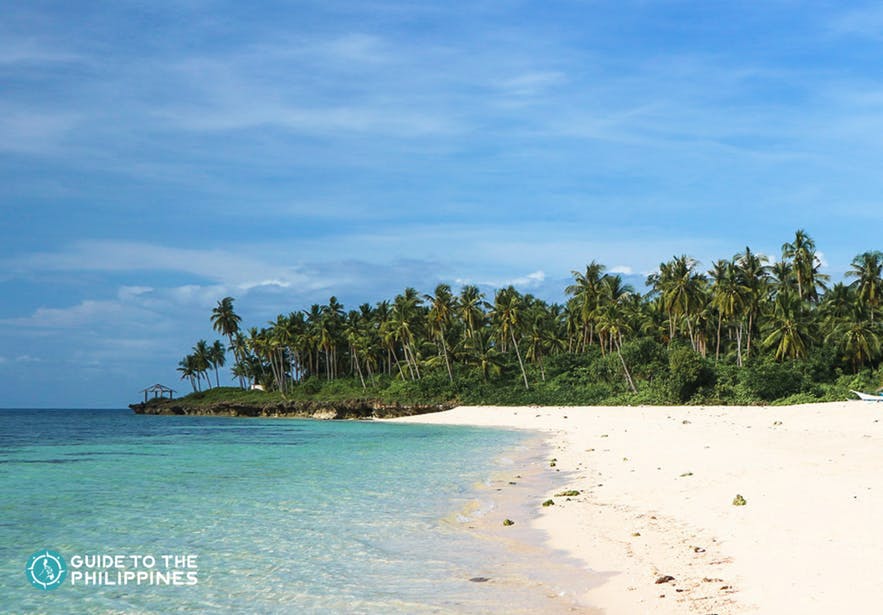 One of the most underrated places in Camotes Islands, located in Cebu province, is Bakhaw Beach. Even though it's a public beach, it rarely gets crowded. This unspoiled beach has a picturesque stretch of white sand and crystal clear waters, making it the perfect place to go swimming and sunbathing.
It's emerging as a must-visit tourist spot in the province and is also one of the top beaches in Cebu. Don't forget to take photos of the sunset as it's a breathtaking sight to see. Since you'll be riding a boat to get here, avoid planning trips around the rainy/typhoon season usually from June to October.
24. Antonia Beach, Gigantes Islands, Iloilo​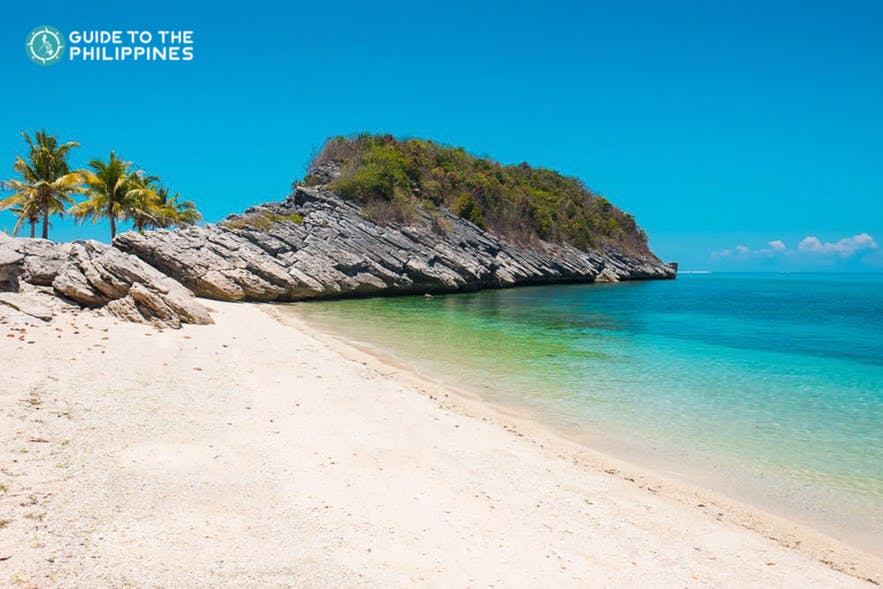 No wonder why Islas de Gigantes or Gigantes Island tours in Iloilo, Visayas have been gaining popularity — the crystal clear waters and powdery white sand of Antonia Beach is a sight to behold! It's one of those remote beaches where you can laze around and swim all day without the big crowd.
Just off the shoreline on the northern part of the beach you'll find colorful fish, corals, seagrass, and other types of marine life that can be clearly seen even without snorkeling gear, although if you want a closer look you can always rent one out for a small fee.
It's usually rainy in Iloilo from June to August so best avoid those months since you need to ride a boat during your island hopping trip to Antonia Beach.
23. Lambug Beach, Badian, Cebu​​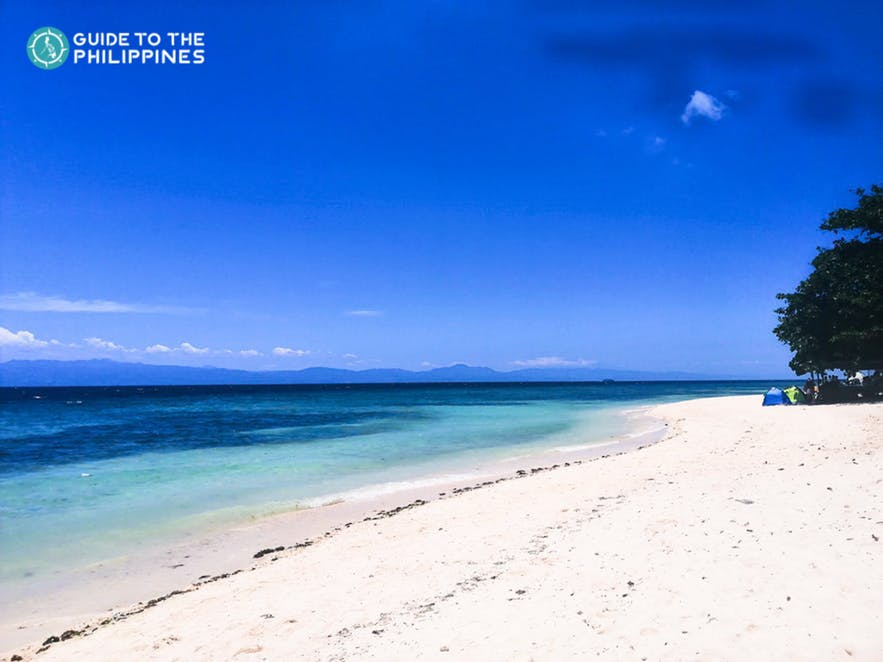 Badian, Cebu got its reputation for being a popular canyoneering experience destination, but did you know there's a hidden gem within the area called Lambug Beach? This public beach is a great place to spend a lazy day relaxing and enjoying the sun.
It's a peaceful beach destination perfect for relaxing and just listening to the waves crashing into the shore. This attraction is relatively uncrowded but if you want to stay overnight, there are some rooms or cottages surrounding the beach area that you can stay in.
22. Morong Beach, Batanes​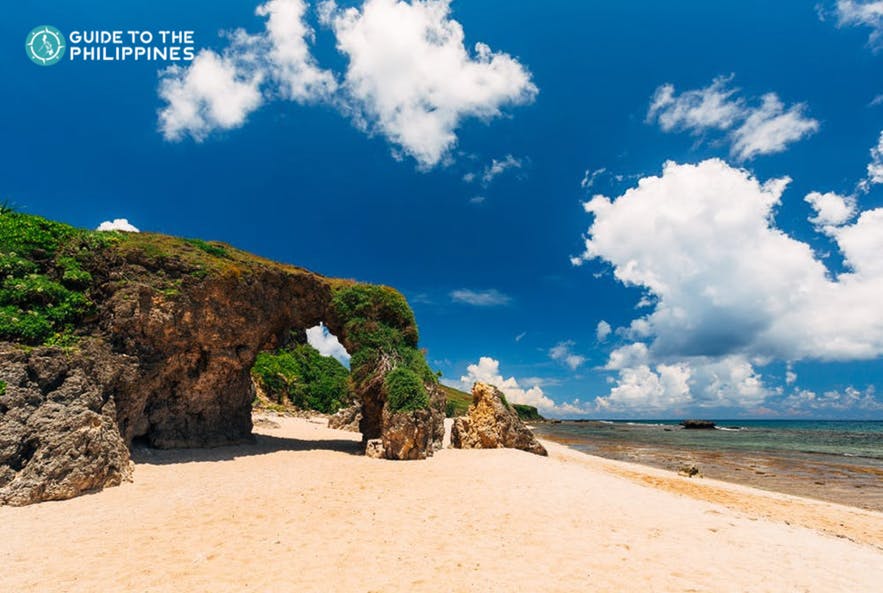 Aside from its rolling hills, lighthouses, and stone houses, the small archipelagic province of Batanes in the northernmost part of the Philippines is also home to Morong Beach. Also called Nakabuang Beach, its most prominent feature is the massive rocky arch called Nakabuang Arch, making it one of the most photographed spots in Batanes.
The glass-like water in Morong Beach is calmer and friendlier despite the usual rough weather. The best way to enjoy Morong Beach is by joining a Sabtang Island day tour. You can even tour the island in a more rugged experience by joining a tricycle excursion of Sabtang Island.
21. Alegria Beach, Siargao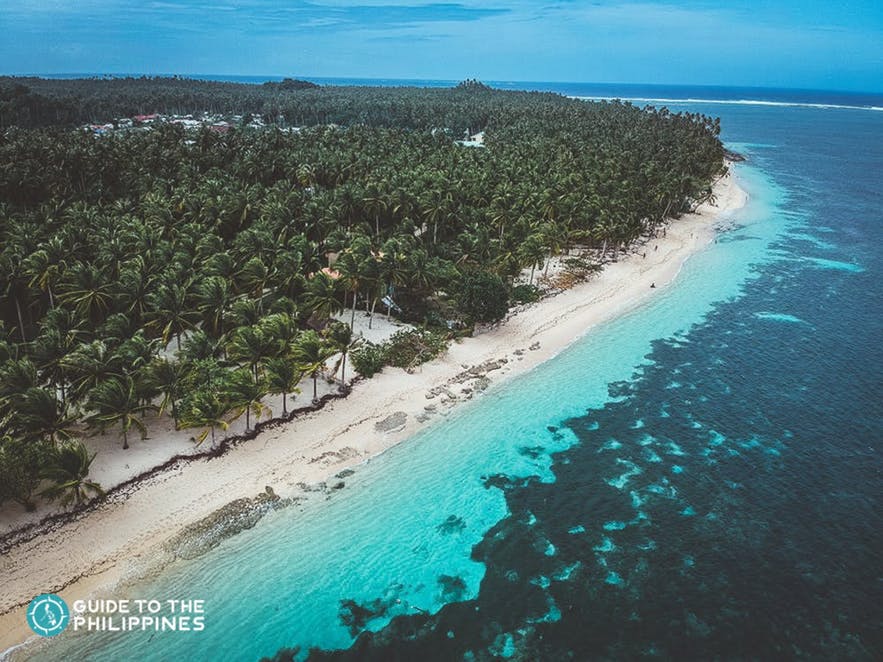 Siargao is often dubbed as the surfing capital of the Philippines. But did you know there are more things to do in Siargao aside from surfing? Make sure to visit the unspoiled Alegria Beach, a 5-kilometer long white sand beach that's famous for its breathtaking views.
There are no commercial hotels and establishments within the area, only a few picnic huts and cottages. It's ideal for swimming, snorkeling, or simply sunbathing. Make sure to add this destination to the Siargao experiences you'll be trying out while on the island.
20. Anguib Beach, Santa Ana, Cagayan Valley​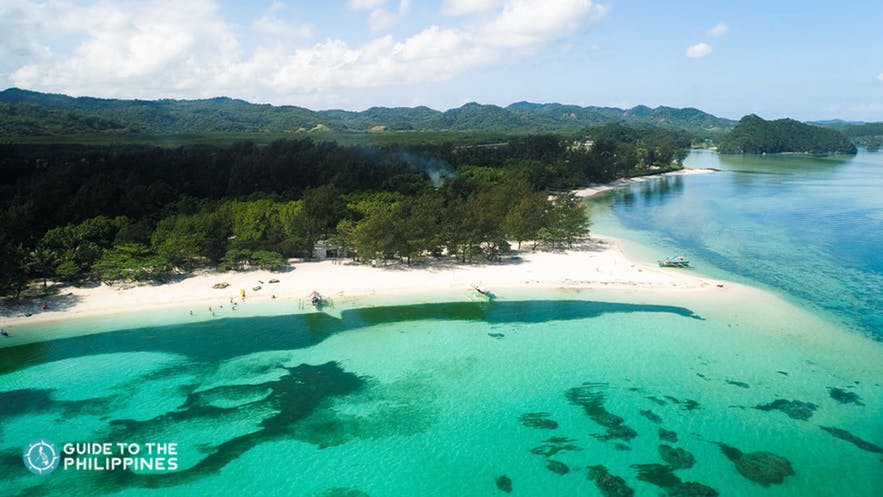 Anguib Beach is one of the best beaches in Santa, Ana Cagayan Valley. Located at the northeastern tip of Luzon and the Philippines, this beach with powdery fine sand and crystal blue waters is one of the main highlights of Cagayan Valley adventures such as the popular island-hopping day trip in Cagayan where you visit other major attractions in nearby Palaui Island such as Cape Engaño Lighthouse.
A day trip to Palaui Island is a highly recommended side trip as you get to visit Anguib Beach, a majestic lighthouse, scenic terrains, and other white sandy beaches. Palaui Island attractions are best explored by boats so avoid the months of June to November since the currents can be rough because of the rain or typhoons.
19. Subic Beach, Sorsogon​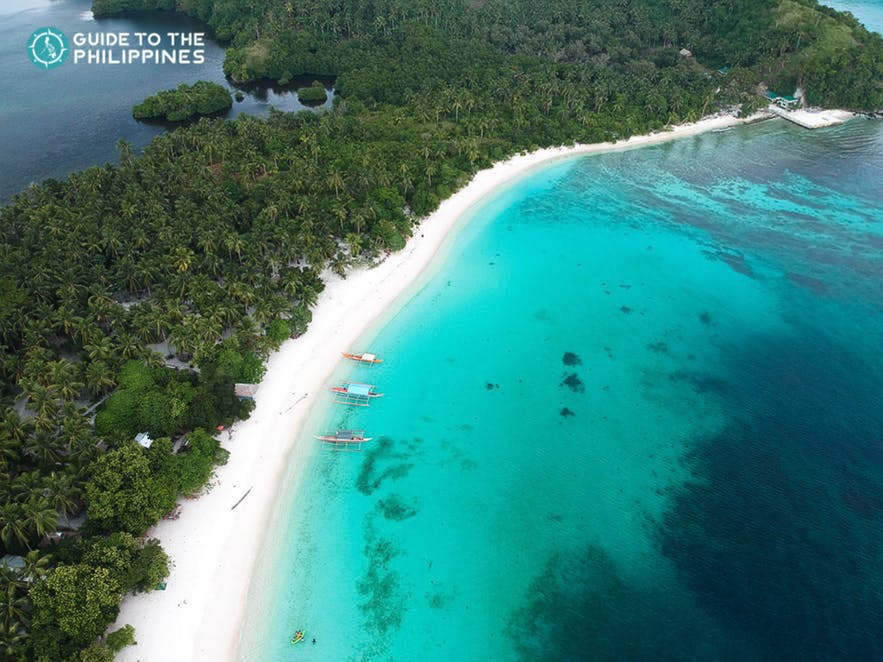 Another Philippine beach with pinkish-white sand, Subic Beach in Matnog, Sorsogon of Bicol region is a must-add to your beach itinerary in the country. Its crystal blue waters and the unspoiled white sand beach offers a peaceful getaway for travelers.
The beach is divided into two, Subic Laki (Big Beach) where most accommodations are located, and Subic Liit (Small Beach) which is uninhibited but is perfect for taking a dip or a quiet stroll under the rows of trees.​
It's a great destination to unwind and relax if you want to escape from the city and follow the sun. You will need to board a boat to go here so it's best to avoid the rainy/typhoon months of July to December.
18. Pink Beach, Zamboanga​​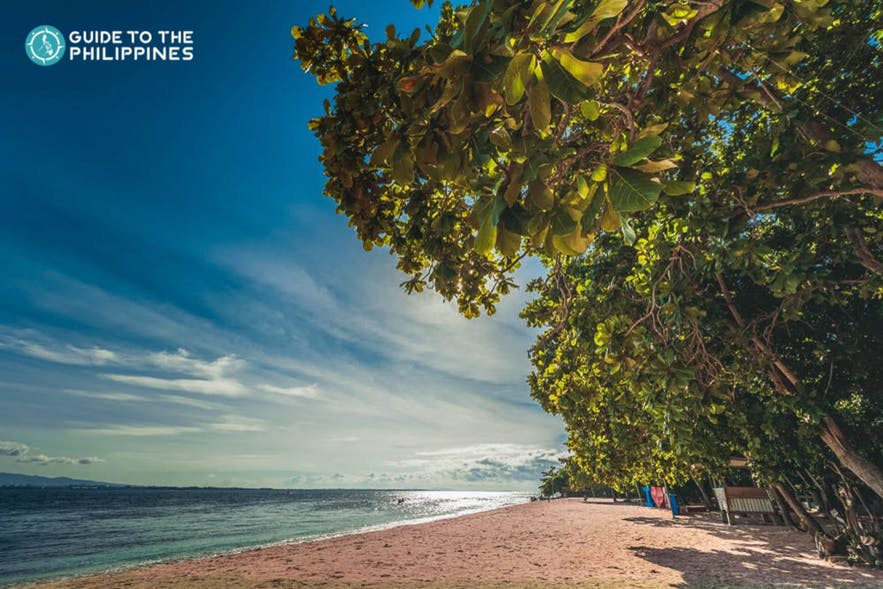 If you're looking for a unique beach to visit, travel to the Pink Beach in Zamboanga's Sta. Cruz Island. The beach has a sandy pink color because of the white sand mixed with the pulverized red organ pipe corals. It might not be visible at first, until you take a closer look at the sand, or view it from a drone video or photo.​
Joining a Zamboanga Pink Beach escapade is worth it, not only because it was dubbed as one of the best beaches by National Geographic, you can also visit the mangrove forest on the island where you can ride a colorful vinta and encounter non-stinging jellyfish. You will need to board a boat going here from Zamboanga City so it's best to avoid the rainy/typhoon months of May to October.
17. Gumasa Beach, Sarangani​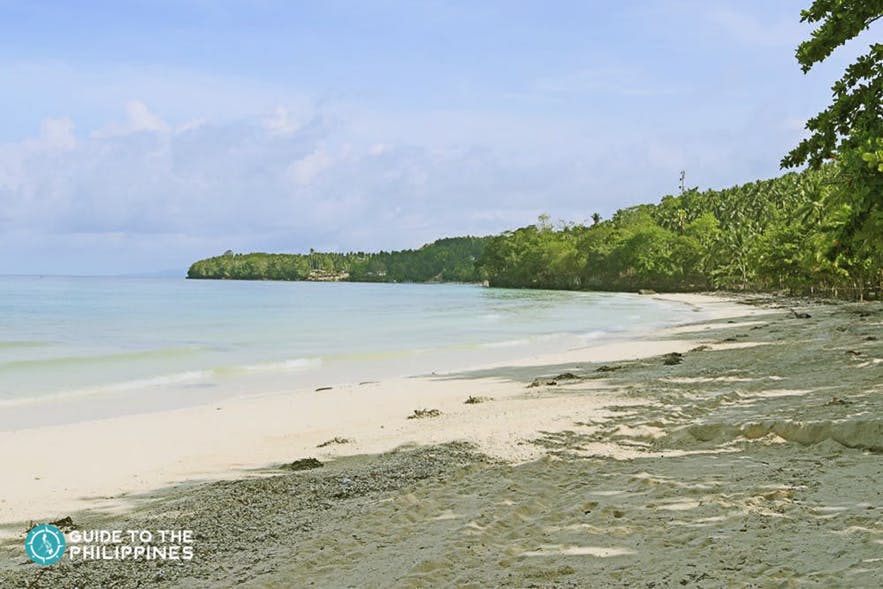 Situated on the stunning shoreline of Sarangani in Mindanao and is often compared to Boracay's White Beach, Gumasa Beach deserves its gaining popularity. It's been called the "Boracay of the South" and "Small Boracay of Mindanao". It offers 6-kilometers of white sand beach, sparkling aquamarine waters, and a scenic view worthy of a photoshoot.​
What sets this beach apart is it's less crowded, but offers the same experience like other more popular beaches in the country. You can go swimming, kayaking, jet-skiing, snorkeling, and many more. You can join a Sarangani beach tour that includes Gumasa Beach during your trip to this part of the Philippines.
16. Bitaog Beach, Dinagat Islands​​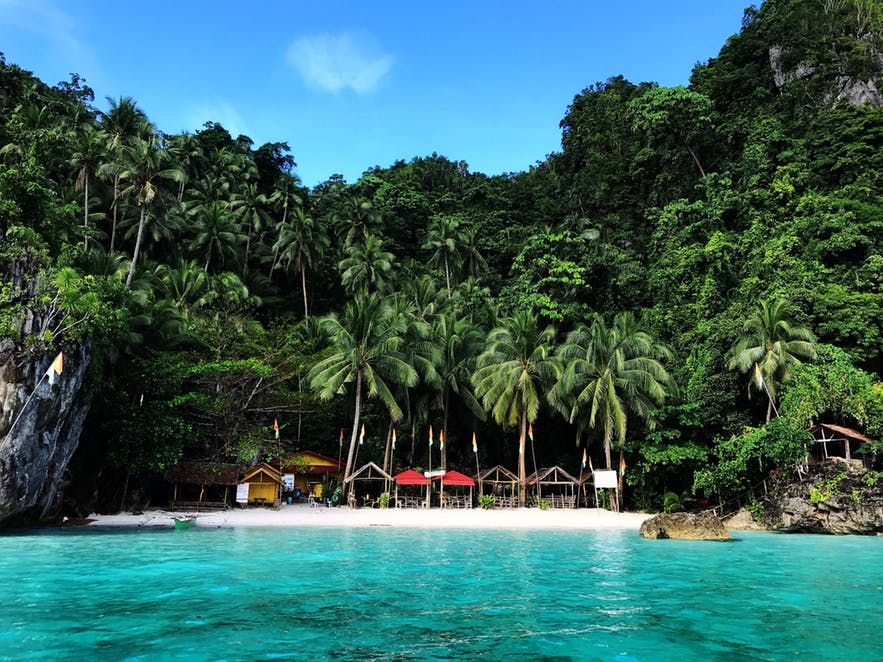 Bitaog Beach is one of the best places to visit in Dinagat Islands, a group of islands in the northern tip of Mindanao. It's a sight to behold with its white sandy shores, crystal clear waters, and rows of coconut trees. With its pristine beauty, it's no wonder why Bitaog Beach is emerging as a top destination in Mindanao.​
Bitaog Beach is perfect for swimming, snorkeling, and sunbathing. There is also an abundant number of rock formations and calcareous peaks that serve as the backdrop of its white sandy shores and are reminiscent of other paradise-like destinations in Palawan.
You'll have to ride a boat to get to the beach, so it's better to refrain from visiting during its rainy months, which is from November to June.
15. Malamawi Beach, Basilan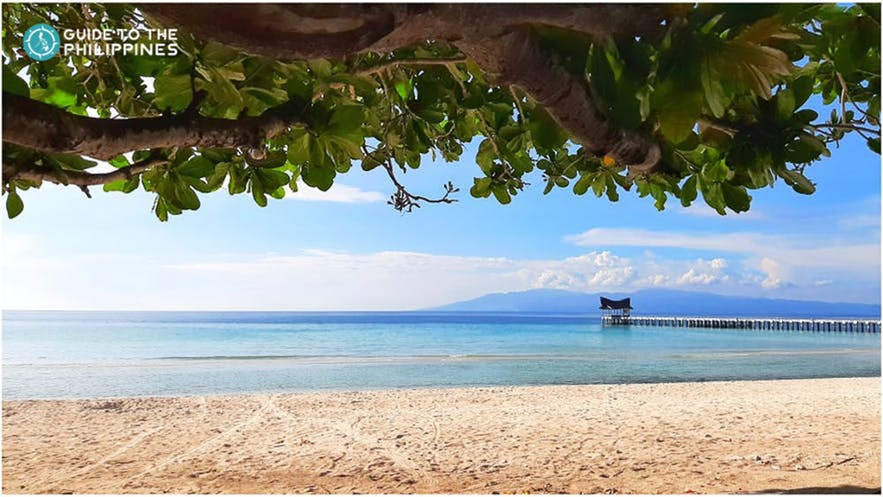 Malamawi Beach is an unspoiled white sand beach in Isabela City of Basilan, Mindanao. This off-the-beaten-path tourist spot is worth checking out because of its turquoise waters, stunning white sand, and uninhibited beauty.
Go for a walk, swim, snorkel, have a picnic, watch the sunset and more. There are beachfront cottages and small stalls selling food and other kinds of souvenirs. You can even rent kayaks if you want to try that water sport activity while in the area.​
14. Puka Beach, Boracay​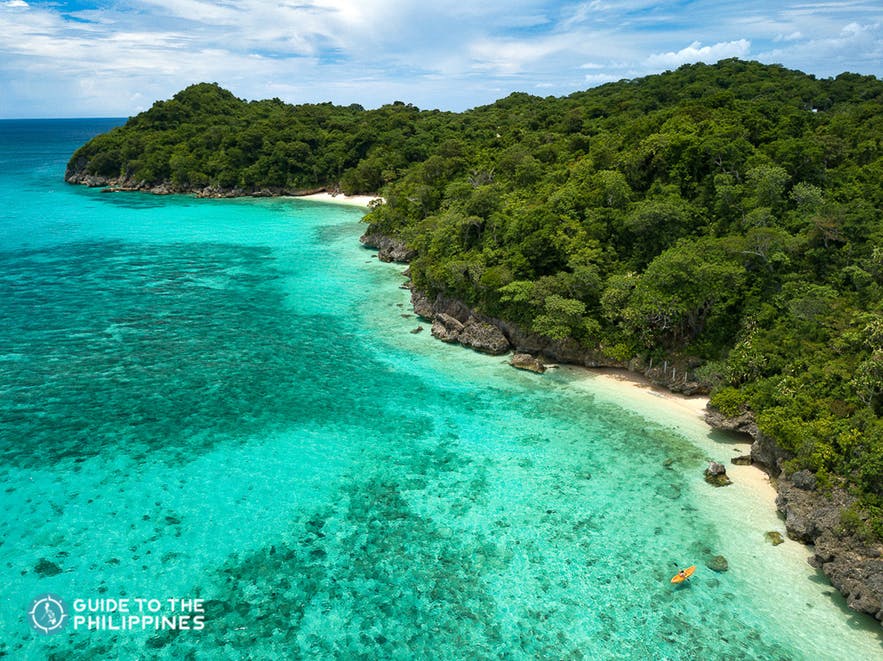 Another gorgeous beach found on the island of Boracay is Puka Beach. It is one of those quieter beach spots in Boracay compared to White Beach, which makes it ideal for those who are looking for a more peaceful tropical getaway.
It got its name from the abundance of crushed "puka" shells mixed with the fine white sand. The beach is roughly 800 meters long and doesn't have hotels, resorts, and clubs like White Beach. Puka Beach is usually included in a sightseeing trip in Boracay.
13. Bonbon Beach, Romblon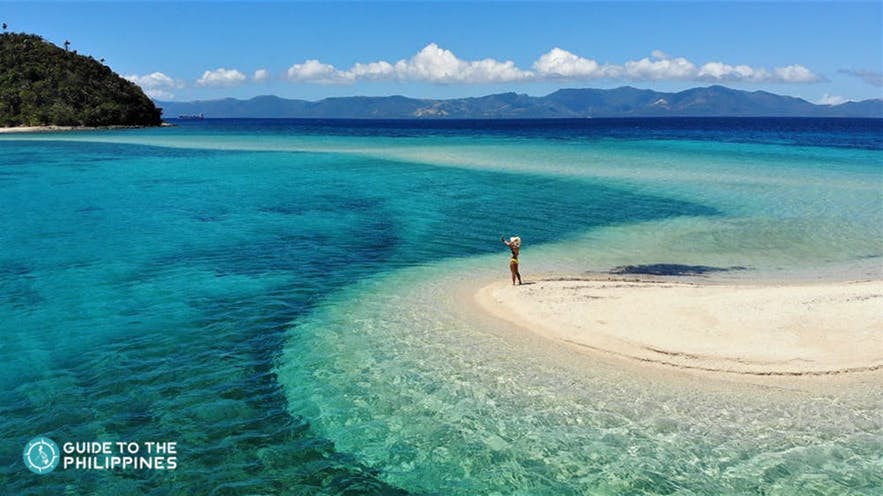 Bonbon Beach is an idyllic beach paradise located in the archipelagic province of Romblon, found in between Luzon and Visayas. It is well-known for its long stretch of white sandbar extending up to 2 kilometers and connects to another island, Bang-og. The sandbar is visible during low tide and you can walk to Bang-og Island too!​
If you want to have a great time at this beach and enjoy its crystal clear waters and stretch of white sand to its full extent, make sure to visit either early in the morning or in the late afternoon. It's best to avoid going there from June to October because of the rain/typhoon season.
12. Banol Beach, Coron, Palawan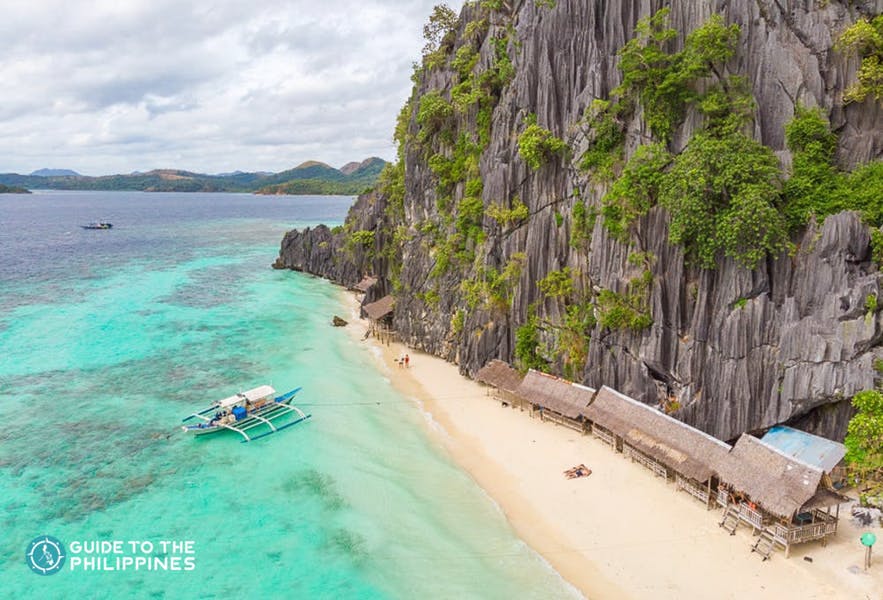 Banol Beach, also called Banul Beach, is a sight to behold with its powdery white sand, aquamarine waters, and a towering wall of karst cliffs. Aside from swimming, you can also ride a kayak or chill by the nipa huts that line the beach.
Joining an island-hopping tour in Coron that includes Banol Beach is a must-try. You can also do an overnight Coron camping excursion that includes this beach.​
​​Don't forget to bring your camera as it's one of the most photogenic tourist spots in Coron! You will need to board a boat for the island hopping tour so avoid the rainy/typhoon season, usually in July to September.
11. Paliton Beach, Siquijor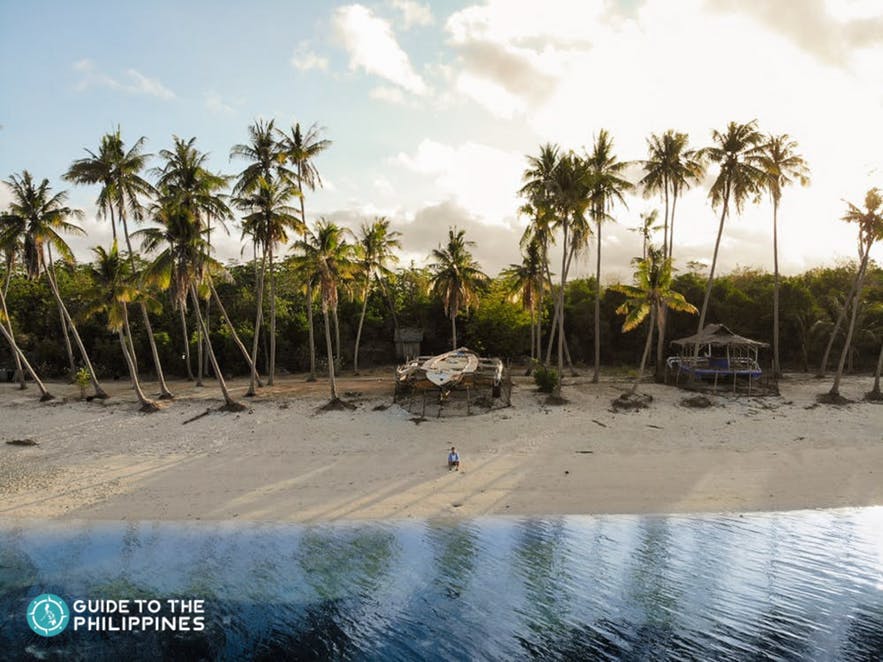 Paliton Beach is the most popular beach on the western side of Siquijor, a small island province in Central Visayas. Dubbed as the province's "Mini Boracay", this beach is famous for its immaculate turquoise waters, white sand, and vast coconut trees. Visiting this beach is worth it, even during peak season.​
Join a Siquijor island adventure to visit Paliton Beach aside from top attractions in the province. The stunning sunset is a must-see in Paliton Beach! The most convenient way to go to Paliton Beach is by riding a scooter or a tricycle. Although the beach rarely gets crowded, it's best to avoid the wet season, from January to May.
10. Saud Beach, Pagudpud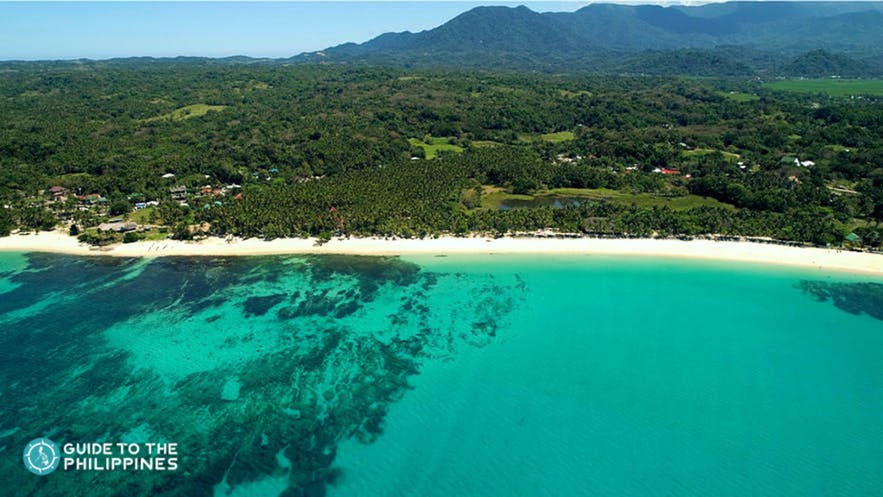 Pagudpud, a coastal town in Ilocos region and a popular holiday destination in North Luzon, is famous for its windmills and lighthouses. But it's also a popular destination for travelers because of Saud Beach.
Known for its calm waters and stunning sunset views, this idyllic beach has 2-kilometers of powdery white sand. Take photos as you wade around its waters with the scenic view of Pagudpud as the backdrop!
Make sure to visit this beautiful beach during your sightseeing trip in Pagudpud. Avoid the rainy/typhoon season usually around late May to October since waves are quite rough.
9. Long Beach, San Vicente, Palawan​​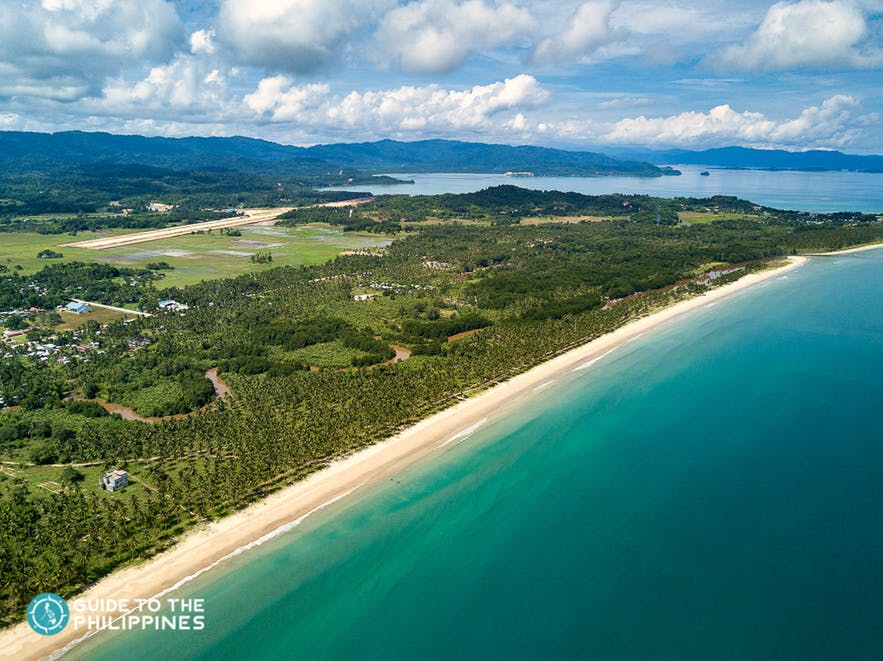 True to its name, Long Beach is the longest beach in the Philippines with 14.7 kilometers of powdery white sand. Located in San Vicente, Palawan, it is composed of four towns namely San Isidro, New Agutaya, Alimanguan, and Poblacion. It's one of the top tourist spots in San Vicente.​
This beach is ideal for those who seek peace and tranquility as it's unspoiled and uncrowded. Enjoy swimming and sunbathing in this piece of tropical paradise. If you're still craving for more adventure in San Vicente, make sure to join Port Barton tours as well which is just a boat ride away.
8. Dahican Beach, Mati, Davao Oriental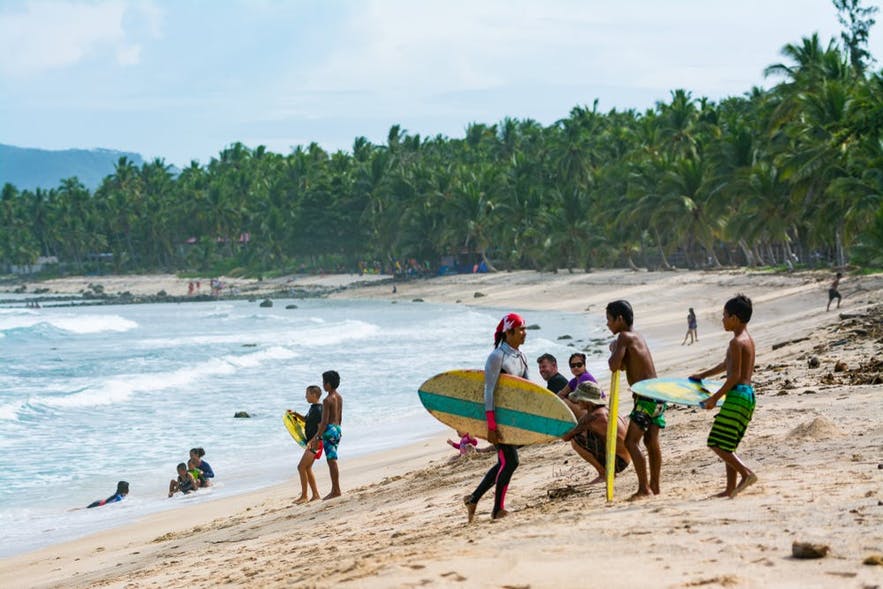 Dahican Beach in Mati, Davao Oriental is not like your typical white sand beach, it's also a skimboarding and surfing spot. It has a 7-kilometer stretch of white sand perfect for lounging for non-surfers and non-skimboarders. The stretch of white sand beach is also a sanctuary for sea turtles.
This underrated beach in Mati is one of the best in Davao Oriental and worth the 4-hour land trip from Davao City. Make sure to stop by at this piece of paradise aside from top Davao trips and experiences.​
7. Mahabang Buhangin Beach, Calaguas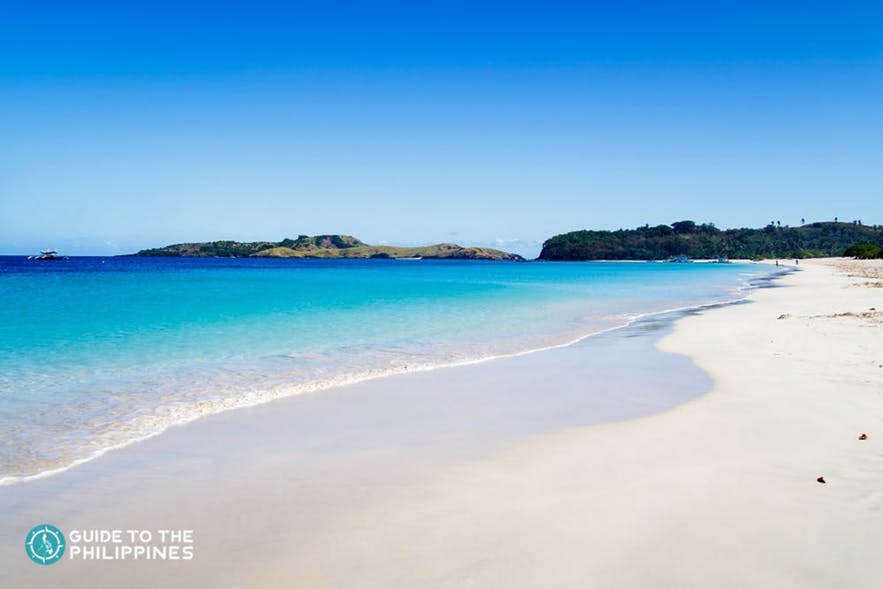 If you ever wanted to visit an unspoiled beach with gorgeous views and turquoise waters, Mahabang Buhangin Beach in Tinaga Island of Calaguas Group of Islands, Camarines Norte is a must-visit. It's a famous destination for campers and beach lovers due to its remarkable 2.5 kilometer stretch of white sand.​
You can spend a weekend here or join a Calaguas Island escapade. One of the best ways to enjoy this beach is to rent a cottage or pitch a tent and rediscover the meaning of tropical paradise by wading around its turquoise waters.
Going to Calaguas will require you to board a boat so it's highly advisable to avoid planning a trip here during the rainy/typhoon season usually from June to October.
6. Hidden Beach, El Nido, Palawan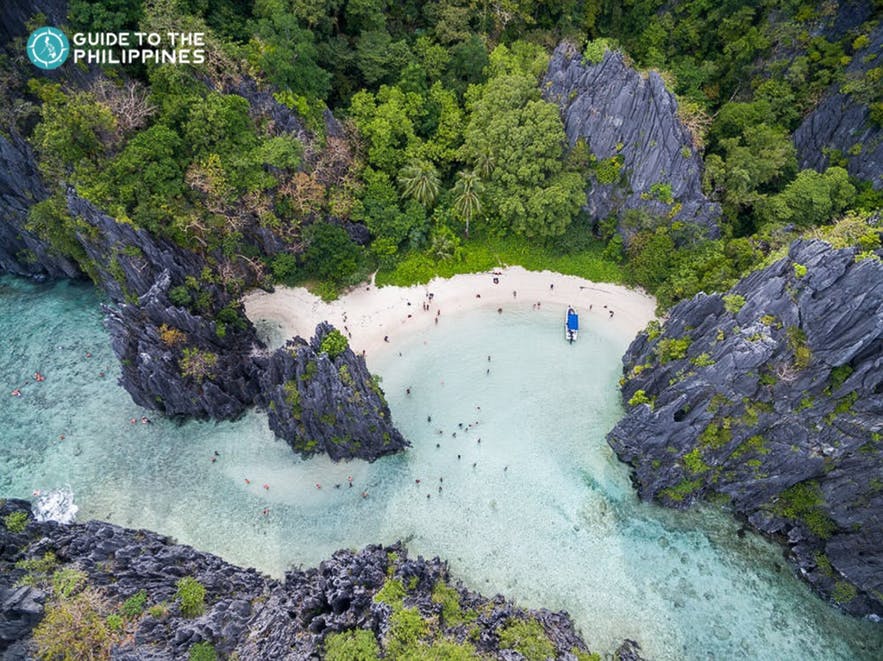 Hidden Beach in El Nido, Palawan is best known for its white sand, azure waters, and towering karst formations that conceals its, thus the name. From your boat, you can swim or ride a kayak to get to the beach. It's one of the major highlights in El Nido island hopping tour C package.
Although it's far from the other popular islands and beaches, most travelers prefer to unwind at Hidden Beach since it's not crowded. This means you have more opportunities to take great photos (or selfies!) with the scenic view as the backdrop.
Hidden Beach is one of the best attractions in the list of El Nido island-hopping experiences that you have to visit during your trip to the Philippines. Since you'll be boarding a boat for the tour, avoid planning trips here during the rainy/typhoon season in El Nido, Palawan, usually around July to September.
5. Malcapuya Beach, Coron​​, Palawan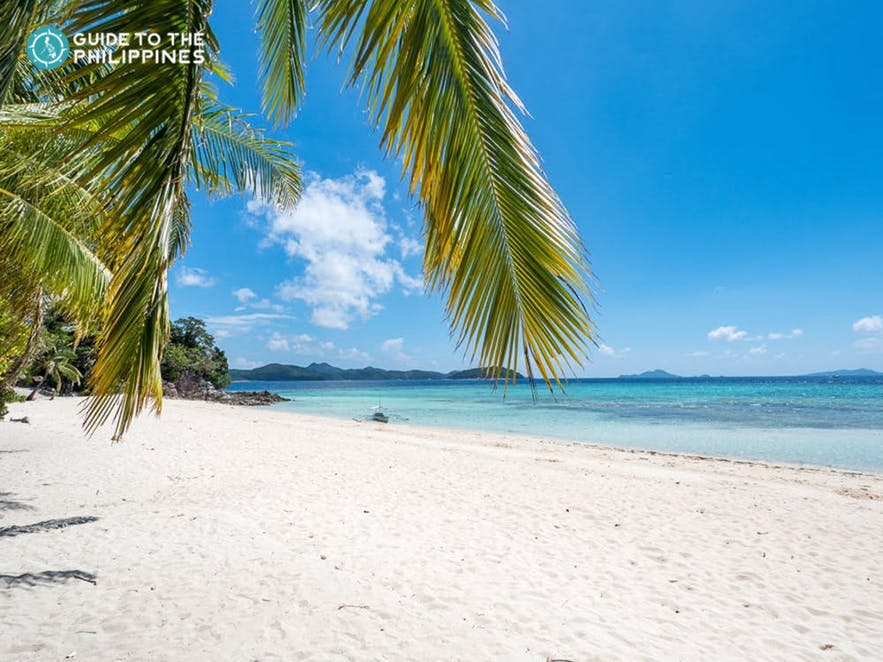 Coron, Palawan is a popular Philippine destination because of its beautiful islands and beaches. One of the must-visit tourist spots in Coron island hopping tours is Malcapuya Beach, that you can go to by joining an excursion at Culion Island. It has 1.5-kilometer stretch of pristine white sand that could rival Boracay's White Beach. ​
Aside from being a great swimming spot, it's one of the best places to snorkel and dive. It's teeming with marine life and colorful corals. Drink straight from a coconut as you stroll around the beach lined with palm trees.
Make sure to take photos as well as it's one of those picturesque beaches that deserve a spot on your photo album. Island hopping tours will require you to board a boat so avoid going here during the rainy/typhoon season, usually in July to September.
4. Kota Beach, Bantayan Island​​, Cebu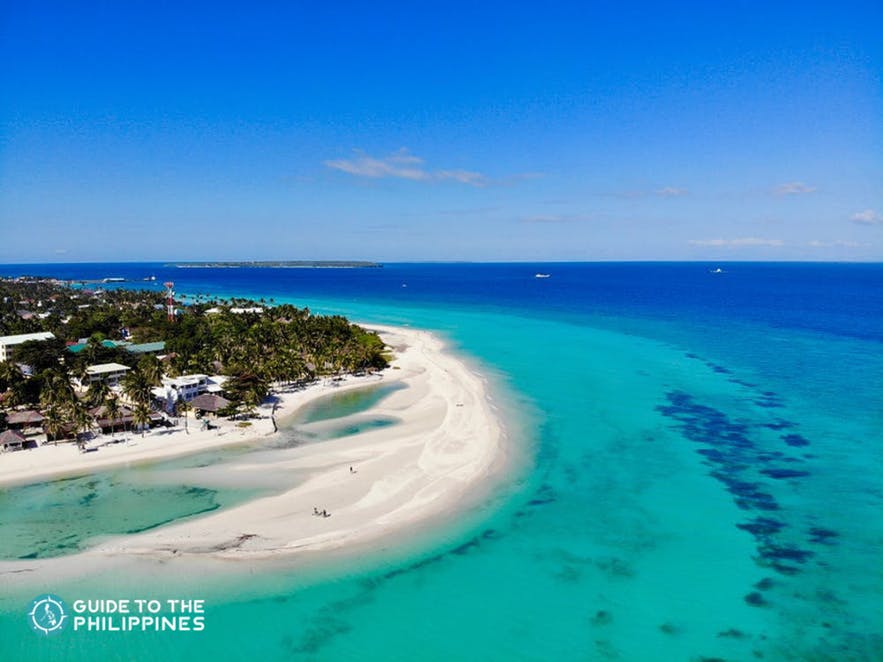 Kota Beach is one of the most stunning beaches in Bantayan Island, Cebu and features crystal clear waters, powdery white sand, and a sandbar that appears during low tide. Bantayan Island is located on the Northwest Coast of Cebu and boasts fine white sand beaches without the big resorts and commercial establishments like Boracay's White Beach. ​
Bantayan Island is a perfect destination among travelers who want a laid back atmosphere and are looking for new experiences in Cebu. Avoid the months of June to September, the wettest months in Bantayan Island, since you need to board a ferry to get here from the main island of Cebu.
3. Alona Beach, Bohol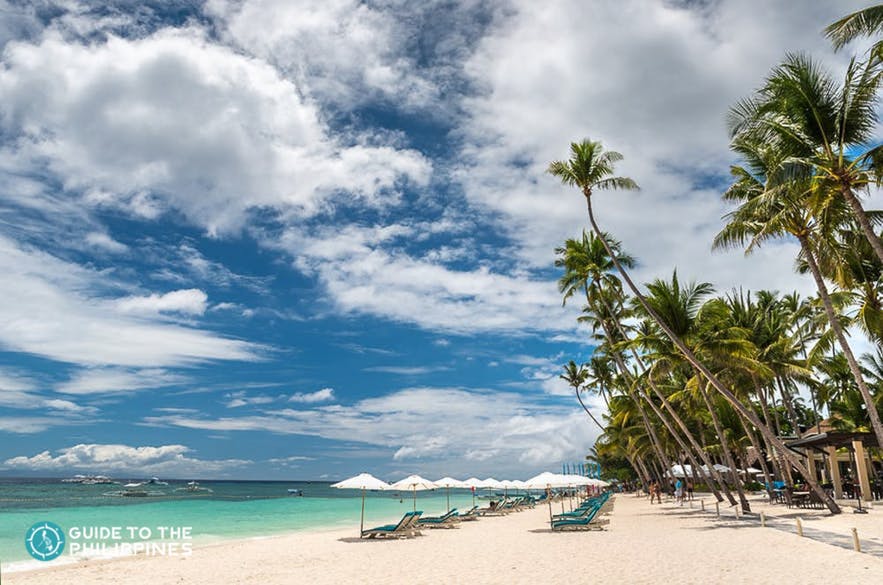 Along with its world-class diving sites, Panglao Island tours in Bohol are also famous for white-sand beaches. Alona Beach, which is named after a famous actress during the '70's, is a 1.5 kilometer stretch of white sand is one of the most well-known tourist spots in Bohol aside from the Chocolate Hills.
Aside from lounging on the beach, you can try fun Alona Beach activities like the banana boat ride, UFO ride, parasailing activity, and join island-hopping tours to nearby islets and islands. Like Boracay's White Beach, Alona Beach can get crowded during the summer season since it's a popular destination. Go here during the lean months of January to March and June to July to avoid the crowd. 
2. Nacpan Beach, El Nido, Palawan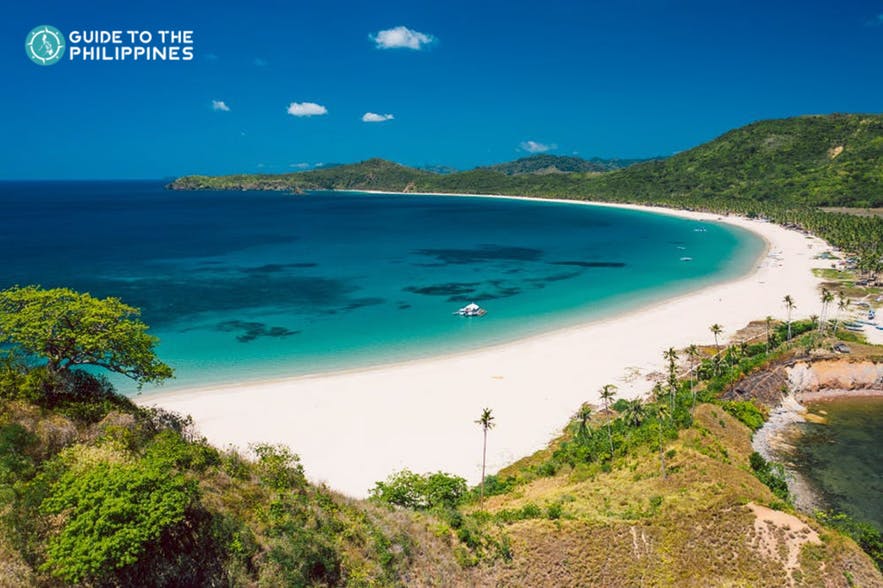 Nacpan Beach is a 4-kilometer stretch of white sand in El Nido, Palawan, about 45 minutes' drive from the town center. It's also part of the Twin Beaches along with Calitang Beach, adjacent to Nacpan Beach. Nacpan Beach is considered by many as the real hidden gem of El Nido due to being uncrowded and untouched by mass tourism.
You can spend a lazy day here just swimming, sunbathing, or hiking to the hill where you can see the view of the Twin Beaches. This is why Nacpan beach tours are massively popular among local and international travelers. You must try a Nacpan Beach inland excursion in El Nido aside from island-hopping experiences. ​
There are also plenty of other beaches in El Nido worth exploring if you have more time. Going here during the rainy season in El Nido, usually June to November, can be tricky because of the muddy roads that you have to pass through to get to Nacpan Beach.
1. White Beach, Boracay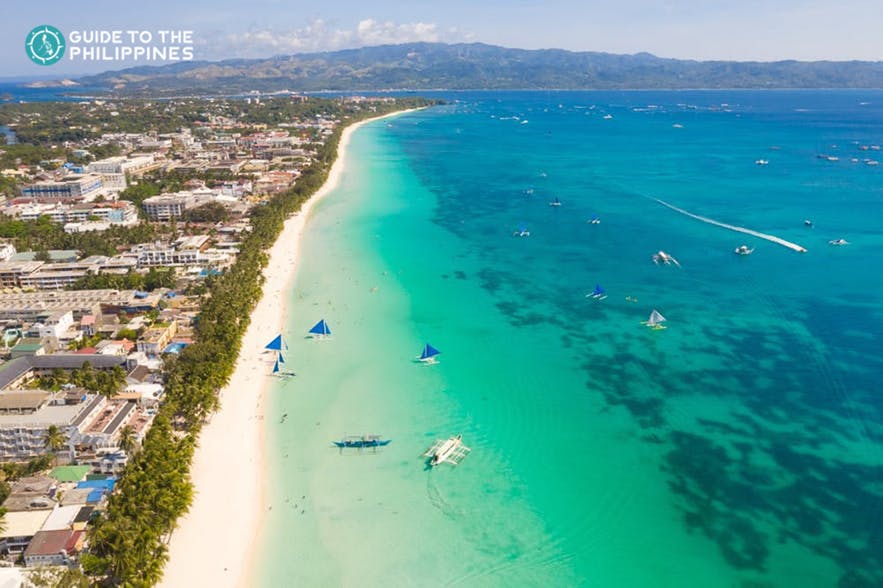 White Beach offers a 4-kilometer long stretch of powdery white sand and is the most popular beach and the main attraction in the famous island of Boracay. White Beach and other beaches in Boracay are not only considered as one of the best in the Philippines but are also hailed as the best in the world by several international travel publications.
The best way to experience the beach to the fullest is by trying out White Beach activities like the banana boat ride, parasailing tour, paraw sailing tour, paddleboarding tour, helmet diving tour, jet ski experience, wakeboarding activity, and speedboat riding. You can also just lounge by the white sand and watch the famous Boracay sunset or join a sunset yacht cruise tour.
You can join Boracay island-hopping tours to explore the islets and snorkeling spots around the island. If you want to avoid the crowds, go here during the lean season from January to March and June to July. Typhoons usually fall on August to October.